The new Freeview prediction system - includes Freeview HD

Brian Butterworth published on UK Free TV
The new Freeview prediction system - beta - is here. Finally!

If you visit Freeview reception - UK Free prediction you now get a much more detailed page to help you with any reception issues.

As before you can see this page with a postcode, the system will shortly also allow the input of national grid references, or latitude/longitude references.

Firstly, you can get a prediction for any number of dates by selecting the appropriate tab at the top.


Five different views
There are five different views
By direction: this will show the various directions your aerial might point and the services you can receive from the transmitters in that direction.
Received signal strength: this shows the information ordered by signal strength, to help you find the strongest signals.
By frequency: this lists broadcast frequencies from C21 to C68, showing the services on each. This view can be used to find potential interference or to help with digital region overlap areas.
Service names: this lists the services that you can receive, each ordered by the strongest signal.
Transmitter names: and finally an alphabetical list of the transmitters with the services listed by broadcast frequency.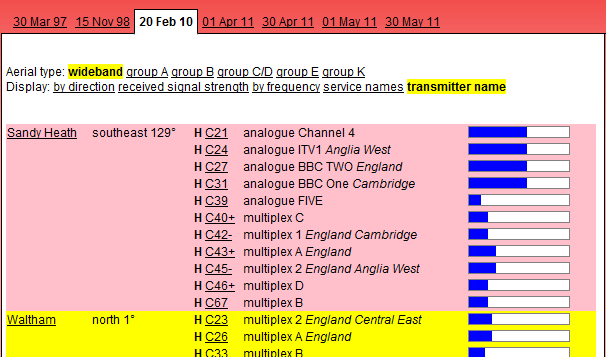 Aerial group choice
When you first visit the page you will see the services received by a "
wideband
" aerial, now you can also select the other aerial groups to see how that will effect reception.
Issues
For the moment it is not possible to resolve postcodes in Northern
Ireland
(BT) or the Isle of Man.
Apologies
for that.
Try it now
Try the new UK Free TV Freeview reception - prediction system now
.
Comments
Monday, 16 May 2011
J
John Lees
9:19 PM
Cheltenham

Many thanks. I found "another" ITV on Channel 800 after seeing your reply. When it came to the adverts they were different from the adverts on Channel 3 and one advert was for Somerset Cider! I shall not have proof that this is ITV West, however, until 6p.m. tomorrow when the local news comes on.
Will keep you informed.

John Lees's 4 posts
Tuesday, 17 May 2011

John Lees: I'm sure you will find it there.

Briantist's 38,844 posts
J
John Lees
9:19 PM
Cheltenham

Found ! Channel 800 is ITV West ! Many thanks.

John Lees's 4 posts
Wednesday, 18 May 2011
K
Kath Oakes
1:16 AM
Newcastle

Kath Oakes from Newcastle-under-lyme my freeview television keeps saying no signal and flickering and no picture only sound monday morning and this afternoon the transmitter has been off I dont think this is good enough do I have to wait until september before it will be sorted.

Kath Oakes's 1 post
L
lester timmings
2:35 AM
Redditch

all the tv channels have gone down in redditch tonight whats going on

lester timmings's 1 post

John Lees: I'm glad to hear that.

Briantist's 38,844 posts

lester timmings: There is listed work on the Sutton Coldfield transmitter as part of the preparations for digital switchover. This effects all services.

Briantist's 38,844 posts

Kath Oakes: Yes, there are listed works for this week for the Fenton transmitter. You do not have to wait until September, only this week.

Briantist's 38,844 posts
Thursday, 19 May 2011
the griffo 2011
2:53 PM
Scarborough

The new freeview prediction does not appear to work on postcodes (yo11 2hf, yo11 1ts and some yo12 5** for, Olivers Mount, Scarborough(TA040869) on any dates.

the griffo 2011's 4 posts

the griffo 2011: There are 226 YO12 5%% postcodes in the system, and 187 YO11 1%% postcodes.

Briantist's 38,844 posts
Select more comments
Your comment please