The new Freeview prediction system - includes Freeview HD

Brian Butterworth published on UK Free TV
The new Freeview prediction system - beta - is here. Finally!

If you visit Freeview reception - UK Free prediction you now get a much more detailed page to help you with any reception issues.

As before you can see this page with a postcode, the system will shortly also allow the input of national grid references, or latitude/longitude references.

Firstly, you can get a prediction for any number of dates by selecting the appropriate tab at the top.


Five different views
There are five different views
By direction: this will show the various directions your aerial might point and the services you can receive from the transmitters in that direction.
Received signal strength: this shows the information ordered by signal strength, to help you find the strongest signals.
By frequency: this lists broadcast frequencies from C21 to C68, showing the services on each. This view can be used to find potential interference or to help with digital region overlap areas.
Service names: this lists the services that you can receive, each ordered by the strongest signal.
Transmitter names: and finally an alphabetical list of the transmitters with the services listed by broadcast frequency.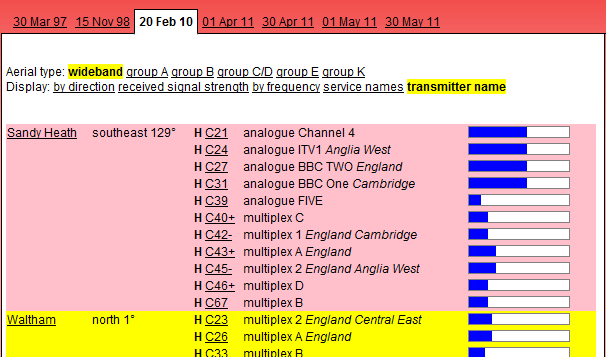 Aerial group choice
When you first visit the page you will see the services received by a "
wideband
" aerial, now you can also select the other aerial groups to see how that will effect reception.
Issues
For the moment it is not possible to resolve postcodes in Northern
Ireland
(BT) or the Isle of Man.
Apologies
for that.
Try it now
Try the new UK Free TV Freeview reception - prediction system now
.
Comments
Saturday, 1 January 2011
A
ANITA WOOLDRIDGE
12:24 PM
Wolverhampton

hi we are on the wrekin transmitter and have freeview HD built into our sony tv, over the past week or so have not been able the get the freview HD channels but can get all the others so i did a retune but now there are none of the HD channels stored at all so then did a factory reset to get them back but still no HD freeviw

ANITA WOOLDRIDGE's 1 post

Checked freeview prediction system.
Home Location yo22 4lu
Selected Bilsdale and map image of coverage o.k.
However only shows info for Whitby on other options.
Getting o.k Freeview coverage fromBilsdale.

Derrick's 1 post

Derrick: The freeview prediction databases tend to give a conservative estimate of the possible coverage. The Digital UK database has access to information which is not not freely available so is sometimes more accurate. According to Digital UK Bilsdale is the only transmitter offering freeview before switchover but not on all muxes. After switchover it shows Whitby as giving the best signal for the PSB muxes but Bilsdale will still offer the best (only) signals for the COM muxes.

KMJ,Derby's 1,811 posts

Trying to Tune my HD Freeview TV into BBC HD and for some reason it will not pick up any HD channels. I have checked the area and there is definatley HD channels available.....any ideas?

adrian Cadman's 1 post
Tuesday, 4 January 2011
Brian Gregory
7:42 PM
Reading

Much better than your previous predictor.
Thank you.
Well done.


Brian Gregory's 23 posts
Brian Gregory
7:54 PM
Sandown

Oh. Having just said how good it was I tried a different postcode, PO36 9EG and it doesn't seem to work for that one! It shows where it is on the map but shows no transmitters at all. IN fact the signals from Rowridge are pretty strong there and you only need a little 6 element Yagi for digital.

Brian Gregory's 23 posts
Thursday, 6 January 2011
A
Ann
11:54 AM
Waterlooville

Don't know if someone has already mentioned this but would it be possible to give the name of the transmitter as it is not always obvious - or have I missed it? Otherwise, great facility.

Ann's 66 posts
A
Ann
11:58 AM
Waterlooville

Sorry, my computer being slow. I have just realised it does come up with the name if I hover over the icon for long enough. Thanks.

Ann's 66 posts
Monday, 10 January 2011

Living in Theydon Bois, Epping, Essex.

Apart from band 1,BBC1 2 and News we have had nothing on our freeview box since Saturday 8th Jan. Our oldish analogue arial points west so I assume that is Hemel Hempsted. Signal strength here seems very reduced though has been fine for years till now. Nothing on ukfree to suggest any reported problem. Is this long term?

Peter's 1 post
Tuesday, 11 January 2011

Peter: It's as long term as you like. You need to fix your equipment.

Briantist's 38,844 posts
Select more comments
Your comment please