Seesaw - iPlayer's backcatalogue with adverts plus 4OD and Demand Five

Brian Butterworth published on UK Free TV
I've been using the Seesaw Beta system over the weekend and I thought I would do some screen grabs so you can see what's there at the moment.

It's clearly a beta, there are lots of really obvious minor bugs that will take a while to sort out. The performance of the Flash player on a single processor Windows 7 machine (that plays 720-line HD OK) was unusable, but things are probably not optimized.

Everything runs through the a normal web Browser. I'm using Chrome.

The only really odd thing is having the BBC logo right next to adverts. If you live outside the UK, this is quite normal. But in the UK the BBC's brand is hidden behind the UKTV ones: Dave, G.O.L.D, Yesterday and so on. Here the BBC logo comes right after the ads.




Here's the front screen. The central picture is a video preview too.




Here is what you get if you choose "Comedy".




And selecting a comedy programme shows the first episode of the first series. You can see the other episodes in the same series listed below. The image is a static holding image.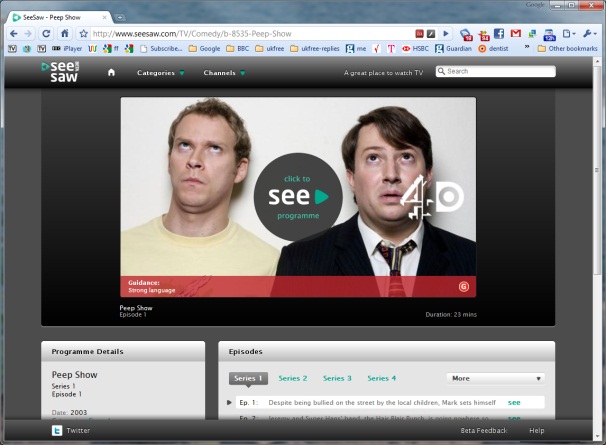 When watching a programme you have the usual navigation, sound, subtitle and video size elements.




Sometimes the Flash player has kittens and the video darkens and you see this.




Here is the oldest programme on the system at the moment, from 1967 Doctor Who's Tomb of the Cybermen.




I must admit I did watch ALL of Jon Pertwee's last story Planet of the Spiders.
Comments
Friday, 11 February 2011

Hello,
Even though I live outside the UK I would willingly pay the license fee as a "subscription" allowing me access to UK television via the internet.
A simple option to create an online account with See Saw or whoever to whom I would make an annual online transaction, just like any other subscription site.
I really wonder why this option does not exist!
There are tens of thousands of ex pats who would pay the license fee as a subscription.
Opening the availability for overseas viewing would allow See Saw to make a lot of money!

German TV sucks's 1 post
Thursday, 10 March 2011

to "german tv sucks"

There are ways of accessing UK-only content through programs like Vidalia w/Torr plugin. Its slow, but works until you're able to pay, just google it.

Jack's 1 post
Your comment please