Freeview retune day - how was it for you?

Brian Butterworth published on UK Free TV
9:20am, ITV3, ITV4 and FIVE have gone blank

10am QUEST showing promos of channel starting at noon.

11am

5 now called "No name 12866", still mux A
10 ITV3 now on Mux A 6882/6881
24 ITV4 now on Mux D 602/601
All BBC radio on Multiplex B.

11:08AM
Well, that was exciting. No changes to multiplex 1 as yet..

I note that there is a 800 ITV3, 801 ITV and 802 TOPUP Anytime3.

11:16AM
now got a working FIVE on Mux 2 2851/2850
Price drop 612/611 on Mux C smileTV2 on Mux D
307, 308, 309, 310 now TOPUPTV Anytime1-4

11:22AM

FIVE restored to position 5

11:23AM

27 is ITV2+1 and it's gone..

23 is now ITV showing ITV2+1 and it's on Mux 2 at 601/600

11:26AM

37 Price Drop...

In summary, this is the main changes for people in areas that still have analogue: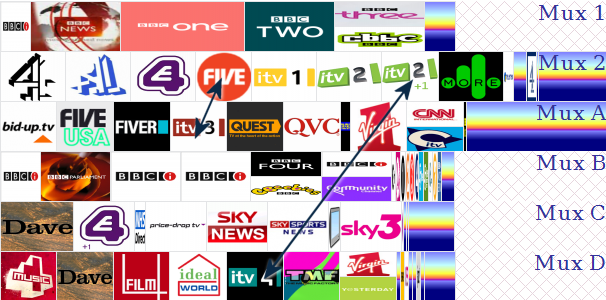 Comments
Monday, 31 January 2011

Hi. We are just about to go Freeview for an older standard def Hitachi plasma TV (pushed upstairs by a new full HD kit) that will mainly be used for entertaining others (I'll plug a DVD into it as well). We are in sight of the Guildford slave transmitter that I think is switching over next year (some doubts that it will ever happen voiced by local TV salesman). Don't need HD or Pause & Record. Have seen mini Proline boxes at Currys for £17 and others on eBay for £12. Any pitfalls to avoid? I am assuming anything sold new today will not have a problem retuning to the digital signals?

John Roberts's 9 posts

John Roberts: I would suggest you get a new box, rather than a second hand one. Even the cheapest boxes today have all the facilities.

I would suggest you stay as far away from a "salesperson" that doesn't know about the digital switchover.

Briantist's 38,844 posts
Wednesday, 2 February 2011

Brian

Thanks for confirming my thoughts - always a comfort to know that gut instinct is usually right!

The other comment echoes back to another feed I posted on the other day about advice or service from a particular outlet being "rubbish". This "salesperson" works for the the shop that did an excellent job when they supplied and installed our HD kit (TV, AVR, BD). Just goes to show an idiot can work anywhere.

Thanks again.

John Roberts's 9 posts

John Roberts: The number of times I've had a "gut feeling" and ignored it, only to regret is later...

Briantist's 38,844 posts
Saturday, 9 April 2011
A
ANG2709
11:40 AM
Cheltenham

Receiving signal from Ridge Hill - good up until 06/04 retune - got explicit instructions from Humax Customer Service for a manual retune on specific channel groups to sort out some problems - all was ok except couldnt get ITV1/Channel 4/Channel 5 and a few other insignificant ones. Got all BBC and shopping channels etc - It seems to be channels grouped under 57 which wont download - even though the signal is quite low for some of the other groups they still loaded - been through all channel groups 21 - 69 on a manual retune and cant find an alternative signal - any suggestions?

ANG2709's 1 post
Friday, 11 May 2012

Hi, I have a wharfedale HD TV 26" Freeview that I cannot see how to retune and am getting very frustrated.

Esther's 1 post
Saturday, 12 May 2012

Esther: Without knowledge of the actual model you are referring to, but with Wharfedale in general if you press the menu button you should see a horizontal line of six icons, select the one on the extreme right which shows a TV with what looks like a sloping hill on its screen and that should take you into the tuning menu.

jb38's 7,179 posts
Friday, 18 May 2012

I have recently retuned my Sony
Bravia KDL-V40A12U regarding the Freeview switchover.
I now get a message after I have switched off then on again NO CHANNELS STORED.
I have unplugged the tv from the mains over night, cold start made no difference.
Has anybody got any suggestions I could try.

John's 1 post
Sunday, 30 September 2012

I have lost ITV 3 on my built in Freeview Samsung Plasma ( channel 10) I have tried retuning but no luck can anyone help ?

Joyce Spooner's 1 post
Select more comments
Your comment please