Freeview retune day - how was it for you?

Brian Butterworth published on UK Free TV
9:20am, ITV3, ITV4 and FIVE have gone blank

10am QUEST showing promos of channel starting at noon.

11am

5 now called "No name 12866", still mux A
10 ITV3 now on Mux A 6882/6881
24 ITV4 now on Mux D 602/601
All BBC radio on Multiplex B.

11:08AM
Well, that was exciting. No changes to multiplex 1 as yet..

I note that there is a 800 ITV3, 801 ITV and 802 TOPUP Anytime3.

11:16AM
now got a working FIVE on Mux 2 2851/2850
Price drop 612/611 on Mux C smileTV2 on Mux D
307, 308, 309, 310 now TOPUPTV Anytime1-4

11:22AM

FIVE restored to position 5

11:23AM

27 is ITV2+1 and it's gone..

23 is now ITV showing ITV2+1 and it's on Mux 2 at 601/600

11:26AM

37 Price Drop...

In summary, this is the main changes for people in areas that still have analogue: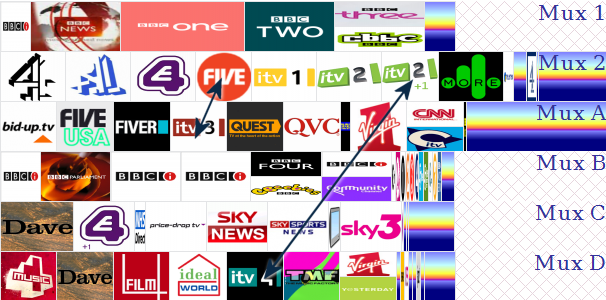 Comments
Sunday, 30 September 2012

I have lost ITV 3 on my built in Freeview Samsung Plasma ( channel 10) I have tried retuning but no luck can anyone help ?

Joyce Spooner's 1 post
Thursday, 11 October 2012
D
dr.scrot
11:59 AM
North Shields

Help. After Digital changeover have lost some channels on one tv but the other is ok which suggests its not the aerial? So what then?

dr.scrot's 1 post
Tuesday, 18 December 2012
M
M S Hahn
9:37 PM
Beaminster

I live in a dip in the ground which is marginal for reception from Stockland Hill .
Analogue (esp BBC1) was unwatchable without a masthead amp so we used the Sky free channels but the channels available on Sky for free have kept varying (currently no Dave which my wife likes)
Freeview on low power (while analogue was still going) was missing channel 28. After analogue switch-off it was still missing channel 28 but with the progs changed we were less worried. (only ITV4 for TT races caused us to revert to Sky for a week each year)
Then, earlier this year, casually checking, I found we had all 6 Freview MUXes with minor (acceptable) pixellation and sound volume dips. So we became Freeview only.
Since the latest retune BBC1, BBC2 and to a lesser extent ITV1 have become unwatchable on Freeview.
So we're back to Sky - which is a nuisance as we feed a 4:3 and a 16:9 TV from the same Sky box (OK I'm a mean old pensioner!!) - and we watch Dave on Freeview.
This arrangement is not really satisfactory as my wife sometimes presses the wrong button and summons me to (instantly)solve the problem....with looks and comments which imply that all our reception difficulties are my fault! - pointing out that she chose this cottage is not wise!!!!

M S Hahn's 27 posts

PS: Does Freesat use the same dishes and LNBs as Sky?
I have a 4 channel LNB that I've never got round to fitting so if I fitted this - ran an extra wire from a second LNB channel to my "remote" TV and obtained a freesat box for each TV would all my probs evaporate?

PPS: It is my understanding that freesat boxes don't have the dummy analogue O/Ps that Sky boxes have and can't therefore be controlled remotely like a Sky box can - am I right?

M S Hahn's 27 posts

M S Hahn: There are no technical differences whatsoever between Sky and Freesat as far as anything connected to the dish or LNB used on is concerned.

And if you are referring to the analogue RF modulators fitted in most Sky boxes for purposes of sending the Sky signal to a remotely positioned TV's located in bedrooms etc, yes you are quite correct insomuch that Freesat boxes do not have this facility and so if its required an external RF modulator has to be used.

jb38's 7,179 posts
Thursday, 10 January 2013

Thank you.

Trying to run a 4:3 TV remotely in the kitchen and a 16:9 in the lounge (still fed from the Sky box analogue RF modulator as the Sky box and the TV are on opposite sides of the room) is causing me hardly bearable grief!

1. The 16:9 has a freeview demodulator built in and always switches on in digital mode. To begin with I used the TV's own remote control to change it to analogue. Then in fit of pique I pressed every button in turn on the Sky remote and found that "Backup" changes the TV to analogue mode. I haven't yet dared to impart this gem of wisdom to my wife!

2. I am now "commanded to carry out all switching on/off and channel changing of the lounge TV.
And I'm fed up with the snide remarks....

3. I've bought a Labgear twin arm fringe aerial and intend fitting this on a very tall pole on my barn which is a) higher than my cottage and b) to one side of the trees between the cottage and the Stockland Hill transmitter. To "aim" it I've acquired a signal strength metter and my first test is to be to connect it via a length of CT100 satellite cable to a TV temporarily sited in the barn. If this works I intend fitting an amplifier in the barn and trying to transmit the signal down 50 or 60 metres of ordinary coax which I laid in a plastic conduit when I built the barn.

If this works matrimonial harmony should be restored so wish me luck!!

Regards

M S Hahn


M S Hahn's 27 posts

M S Hahn: My thoughts on this:

For lots of information about aerials, see ATV's site: A.T.V (Aerials And Television) TV Aerial, DAB Aerial, FM Aerial.

1. The modulated analogue output of the Sky box provides a picture of inferior quality to that of the scart or HDMI. It also gives only mono sound. With that thinking, perhaps you should consider resiting the Sky box by extending the feeds from the dish. If you use a scart connection, then you should ensure that the output is switched to RGB (as opposed to composite video which is usually default). I haven't ever used a Sky box, but a scart output's default is usually composite video because some TVs don't have RGB capability.

2. Can't help you with making wife more understanding...

3. Stockland Hill uses Group A channels exclusively. Therefore, if you use a yagi aerial it should be a Group A type as wideband yagis are inferior on lower (Group A) channels and manufacturers will always quote the highest gain which is on higher channels. If you use a log periodic aerial then these have a flatter response curve and are wideband, so these are fine. See:

A.T.V (Aerials And Television) TV Aerial, DAB Aerial, FM Aerial. gaincurves.html

You have the right idea, amplifying the signal before the subsequent loss caused by the cable.


If your "twin arm fringe aerial" is a log periodic phased-array then be aware that this will have a narrower acceptance angle than a single aerial.

An aerial's gain is simply at the expense of more "loss" in other directions. So a higher gain aerial (if it were used for transmission) sends out a narrower beam. Obviously the degree to which it is sensitive when receiving is narrower on the same principle; perhaps appreciating how it acts when sending out signals is easier to get one's head around than when receiving.

With this in mind, when you have a "beam" from the transmitter that you are trying to receive, then a narrower acceptance angle might be OK because you can focus on it - but it will be more tricky to align because it's obviously more critical.

I have looked back at your previous postings and noted that Digital UK Postcode Checker "thinks" that 100% of your postcode unit are served by all Stockland's channels. This doesn't take account of trees that might shadow the signals, but nonetheless gives a general indication that your general area is good.

However, I have seen your postings which give the OS grid reference of your location which, I see, even the Google Streetview car didn't go to!

You say that you are lower down than the other properties in your postcode. So this makes me think that your difficulty is simply because of this. "If" you could elevate your house or barn, then you would have an excellent signal.

So you are trying to pick up what signal is coming over the brow. Think of this (the signal) as being like car headlights coming towards you (which you can't directly see) shining over the summit of a slope.

With digital TV quality is the important factor which is essentially digits intact and not corrupted. If your narrow-beam aerial happens to be aimed at a signal which has poor quality, then your picture will be poor irrespective of how much you amplify it. A wider acceptance angle will "take in" a wider range of signal (including that of the narrow angle aerial array), and so the average quality across that angle may be far better (that is the hope) than the smaller bit your narrower aerial could pick up and so the result will be better quality, albeit lower amplitude for which you are using an amplifier to boost.


I simply making the point that a higher gain aerial isn't always best. Yours may work, or you may find that a single log aerial will give you better quality.

I am not a professional installer and hold no qualifications in the subject; I've just taken in the principles of the topic.


One other thought: the Digital UK Postcode Checker also suggests that reception from Mendip might be excellent as well. Would this be a better bet, and resort to Sky for regional programming?

Dave Lindsay's 5,724 posts
Select more comments
Your comment please