Aerial group performance

Brian Butterworth published on UK Free TV
Whilst developing the new reception prediction system, I went looking for the reference material relating to the UK Aerial Groups system.

On page 39 of a document entitled "CH61 & 62 Re-Farming Study by Arqiva Final Report 27 October 2008" I found the answers.

To assess the loss of coverage as a result of moving outside of the receive aerial group, account needs to be taken of the performance of receive aerials.

For planning purposes the UKPM assumes that the gain of a receive aerial system is 7dB. This is a somewhat idealised figure based on a good aerial and feeder and no pre-amplifier. The performance of actual receive installations is known to vary considerably from this ideal. Two studies, one for the Virgin consortium that bid for the Channel 5 licence in 1995 and the other for the ITC in 2004 investigated the actual received level for a large sample of domestic installations. This study considered aerial group but not the performance of actual receive installations.

In addition to variability in receive aerial system gain, most aerials are banded and their performance falls away outside their design operating band. The ITC as part of the documentation for the original DTT plan, Notes for applicants on coverage of Digital Television, October 1996, listed the out of group response of representative receive aerials.

I have reproduced the information from the table as a graph. The values are the attenuation (in dB):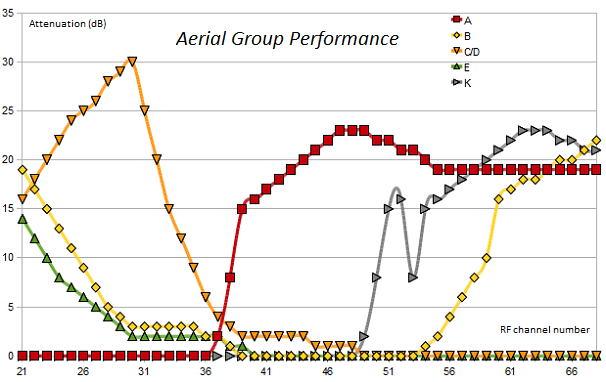 It is interesting to note that in group A, C37 is -2dB and "in group", group B, C35 is -3dB and C36 is -2dB and "in group", group C/D has C48 on -1dB and "in group" and group E has C37 or -2dB and C38 and C39 on -1dB and be "in group".
Comments
Wednesday, 9 July 2014

Hi, I'm currently using my old UHF aerial to pick up Digital transmissions but on occasions I'm getting a lot of digital blocking on the screen, I'm picking up the signals from the Tacolneston transmitter as before when it was Analog. the aerial types for me are quite hard to understand, the aerial I'm looking to purchase is the Televes DAT HD Boss 790, can you tell me if this is the correct one for now with future proofing.

Many thanks.

Dave Mitchell's 1 post

Dave Mitchell: An idea of location would be useful so as get an idea of predicted signal levels.

With Tacolneston the COM channels are below the old analogue Group so if it's a problem caused by the aerial not being the best at that frequency (i.e. "out-of-Group") then it will only affect the COMs.

Dave Lindsay's 5,724 posts

Dave Mitchell: The problem with trying to future proof your installation is the possibility that the goal posts might be moved by the regulators, politicians or broadcasters in an unexpected way or technology could advance so rapidly that it makes your once state-of-the-art equipment suddenly become redundant. The spec for the DAT boss 790 mentions that the design rejects signals in the C61 to C69 section of the UHF band. In the event that C49 to C60 is also sold off for mobile broadband etc there could be unwanted signals in the range over which the aerial is designed to work. It does however sound rather impressive, not having to worry about signal levels, as when the aerial is powered up it automatically adjusts the level to that which is required for good reception. What happens though, if there are strong signals on PSB muxes, weaker signals on COM muxes and a weak signal on the local TV mux (required) together with an unwanted weak signal from Holland? Or for that matter, during a spell of high pressure, a very strong signal from Holland on a clear frequency - would the gain automatically be lowered to the detriment of the wanted signals from Tacolneston? I wonder if a log periodic with a variable gain amplifier might be a better buy as you could set your own levels..

KMJ,Derby's 1,811 posts

KMJ,Derby: Re: DAT HD Boss 790. l fully agree with your reservations regarding the design of the preamp used in this aerial, a device that in my opinion is a bit of a gimmick typical of Televes, the so called "plus point" of auto-gain being a ludicrous idea as its something which is almost guaranteed to cause problems in areas where some Mux channels are received at a different level from others, the end result being that the already weak Muxes get even weaker (or vanish) in the same way as happens in an area affected by a 4G signal, that is prior to a filter being installed!

I likewise fully endorse your latter comment with regards to using a log periodic in conjunction with a variable gain amp, a combination that in my experience gives excellent results that are hard to beat.

jb38's 7,179 posts

I now see that I failed miserably in my "reading ease / grade score" another idea I have severe reservations about!!

jb38's 7,179 posts

KMJ,Derby, jb38 and Briantist:
Readability of answers/responses of a necessarily technical nature will likely be scored as 'almost unreadable' as the general population have poor understanding of the more complex technicalities involved. As I understand it, the scoring system looks at how 'readable' our comments are from the perspective of 'general public' levels of understanding. What we who know something about the television systems regard as essential technical content is regarded by many as 'jargon' and so dismissed - in my view largely because they can' understand the basic principles involved. However, keen amateurs (the 'radio ham' types) go and find out if they don't understand something.
I'm sure all my posts 'fail' the test too, but I do try to be technically accurate (if my old memory cells allow).

MikeP's 3,056 posts

MikeP: Yes, as some queries made by a viewer can only, by necessity, be replied to in what's considered to be a technical fashion whereby triggering the red indicator bars.

The idea might be quite OK for certain types of sites, but in my opinion not on any site where technical issues are frequently involved such as in the case of UK Free - TV, as the grading & score system is too simplistic.

jb38's 7,179 posts
Wednesday, 17 September 2014

Hi, could you tell me if aerial mast head amplifiers been upgraded or altered to take account of Digital transmissions ?
I live in a fringe area and have been using a Triax unix 100 for many years, the aerial moved recently during some high wind causing me to lose one or two channels, before I get it realigned I wondered if I should upgrade the mast head amp at the same time.
Many thanks Chris Reid.

Christopher Reid's 2 posts

Christopher Reid: Mast head amplifiers amplify RF signals within the range of frequencies they are designed to operate over irrespective of whatever the transmission mode of the signal might be, and so the answer to your question is no.

That said, some of the latest types incorporate a 4G filter to help eliminate the possibly of your reception being interfered with should any 4G stations come into being in your area.

Apart from that, if the mast head amplifier has been operating perfectly OK, then nothing will really be gained by replacing it.

jb38's 7,179 posts

Many thanks for the prompt reply.
Cheers

Christopher Reid's 2 posts
Select more comments
Your comment please