Welcome to the UK Free TV Rigger's Zone

Brian Butterworth published on UK Free TV
UK Free TV is here to help with everyone's free digital TV questions.

This section is dedicated to questions for those who install TV equipment.

To suggest a new topic for discussion, please post below.
Comments
Friday, 4 February 2011

Brian - Have the photo you requested - How do I upload this to you?

Les Nicol's 991 posts

Brian - will send send this as an attachment on my profile.



Les Nicol's 991 posts

Here it is...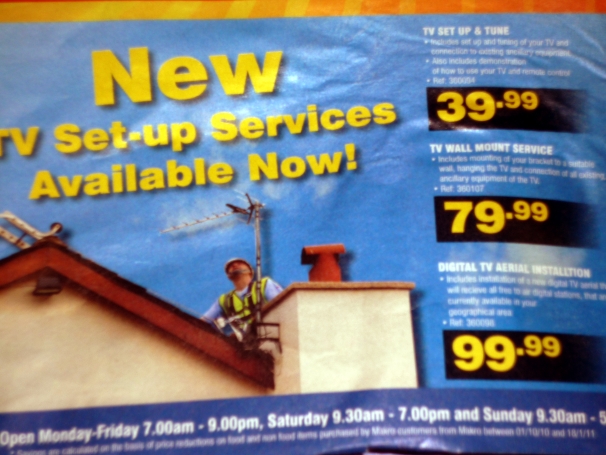 Highly amusing.

Briantist's 38,844 posts

Les Nicol: I can see what everyone meant.

Briantist's 38,844 posts
Thursday, 17 February 2011

Hi Brian,

Ive just sent you a picture via mms they sent me another flyer today with slightly different artwork .

Mark Aberfan Aerials

Mark Aberfan Aerials's 1,059 posts

Mark Aberfan Aerials: Thanks. Here it is..


Briantist's 38,844 posts
Monday, 28 February 2011

If one takes a closerlook then I would have to say that in defence of the outfit in the advert / flier (showing the chimney install) then more than likely the standard wall bracket shown could well be part of a previous install and only the aerial is new. The downlead cabling certainly is original as it it buried in the render applied to the chimney (as is the bracket).

Gordon's 19 posts
Monday, 22 August 2011

... TV Transmitter climb | fidgetwith.com

donny's 8 posts
Monday, 1 October 2012

Donny: I would love that job!! Something tells me you wouldn't be able to free climb in the UK!!
Aerials and dishes installed and maintained
Forest of Dean and Surrounding areas
07919022679

ABSatellite and Aerial Installation's 57 posts
Wednesday, 27 November 2013

Guidance on the planning regulations are here:

Planning Portal - Satellite,TV and Radio Antenna

Permission is not required for an antenna that is not more than 100cm in any linear dimension.

Looking at the dimensions of aerials sold by ATV, only the grid antenna doesn't need permission:

ATV`s Choice Of Aerials for digital TV

Is it the case that in practice most installations require permission but most people don't bother seeking it?

Dave Lindsay's 5,724 posts
Select more comments
Your comment please