TV Catch Up

Brian Butterworth published on UK Free TV
Even if you can watch BBC One and BBC TWO online from November 27th, there is another service that allows watching of the most popular UK TV channels online.

TVCatchup - Never Miss A Show Again (click to get immediate access) gives access to these channels:


BBC one
ITV1
FIVE
ITV2
Five US
E4
Fiver
Unlike
Zattoo - Freeview online
there is no need to download any software first, so you can get watching without any delay.
There is also a TV guide built in: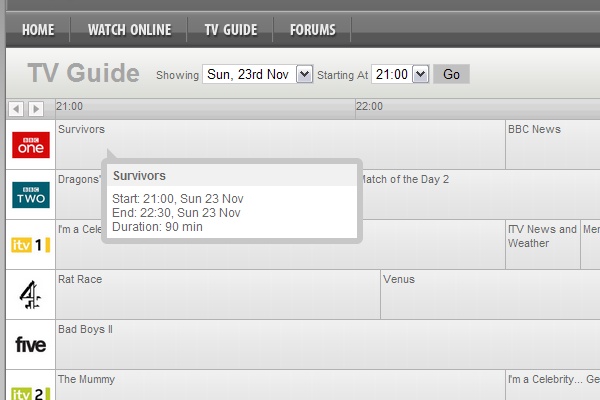 There have been problems with the service from time to time, but the
picture
quality
is very good.
Please give
TVCatchup
a go and let us know what you think!
Comments
Tuesday, 9 August 2011
A
Allison Fielding
12:43 PM

Can anyone tell me how to get full screen on Android TV Catchup on my Samsung Galaxy please?

Allison Fielding's 1 post
Wednesday, 10 August 2011

Allison Fielding: Have you tried TVCatchup - Never Miss A Show Again ? It works on my Asus Transformer.

Briantist's 38,844 posts
Wednesday, 28 September 2011

Can I buy a digi box which will allow me to get sky from the satelite and catch up from the internet on my tv

Bob's 1 post
Thursday, 29 September 2011
Friday, 18 November 2011

Until the council eventually get around to installing the communial digital aerial system in these tower blocks I have no option but to use TV CatchUp for my TV. Unfortunately, though, I get nothing but trouble with it as it gives about 3 seconds picture, followed by about 30 seconds buffering the signal - if I'm lucky. Otherwise it then times out altogether & closes the connection. I've checked my Broadband Connection speed & that's fine, so that's not the problem.

FourPart's 1 post
Tuesday, 22 November 2011

hi have you thought of sky? take it indoor aerial not working i have a 50gain indoor aerial i got from ebay for about £16 and use it in work which is really hard to get a signal but i can get everything on digital tv this aerial i found 100 times better than the one i got in tesco for £35 i think it only had a 45gain

Martin b's 9 posts
Sunday, 11 December 2011

Hiya Brian
We've just moved to BTVision at BN108AT and... No freeview! ANy thoughts - I've looked at your site not exactly sure what it's telling me - BT say they have no freewview avaliable as there info for this site though they also say that is likely to be wrong.
The analogue signal is very poor to - looking at the aerial cable it is in v. bad condition - black unhealthy copper etc...
Any thoughts welcome!
Many thanks
Toby
Great site btw!

Toby Lindsay's 1 post

Tony Lindsay: I would say that you are probably receiving your analogue TV from Newhaven relay transmitter. This is based not only on the Digital UK predictor, but a look at Google Streetview which shows the vast majority of aerials facing Newhaven.

A poor analogue picture is not forced to be the condition of your cable; it could be because your TV is tuned to a signal from another transmitter (to which your aerial does not face). The four analogue services are on channels 39,45,43,41 from Newhaven.

Come switchover, you will only get multiplexes BBCA (the BBC TV and radio channels), D3&4 (ITV1, ITV1+1, ITV2, C4, C4+1, E4, More4 and C5) and the HD channels.

See here for information on multiplexes:
Freeview multiplexes | ukfree.tv - independent free digital TV advice

If you wish to get the other commercial multiplexes, then you will need another aerial on another transmitter that broadcasts these services *if* you can receive from such a transmitter at your location.

Dave Lindsay's 5,724 posts
Monday, 23 April 2012

Hi, The rest of analog channels have been switched off for London, so for TV License payment (Regulation 9- '..is received at the same time..'), seems to be crucial interpretation of time delay for TVCatchup streaming. Does it classify TVC programmes as NOT Live ? 'Dave' as well ?

Andrew's 1 post
Friday, 27 April 2012

I'm from Brazil and I want so bad to watch bbc programmes!!!!Please it could be available to other countries too

Luisa's 1 post
Select more comments
Your comment please