Freeview reception has changed?

Brian Butterworth published on UK Free TV
From time to time people find that their Freeview box, integrated set (idTV) or Personal Video Recorder (PVR) has lost many channels without any apparent changes.
There are a number of factors to consider
Freeview is broadcast on
digital
multiplexes. This means that, once broken down into a stream of bits, each television
channel
is combined into a single transmission of 1s and 0s. This means that
reception
is of the
multiplex
first if this is lost it affects all the channels in the multiplex in the same way.
The
signal
strength received by
the box
or TV for a particular multiplex from a given
transmitter
determines if the data can be received or not. So, a poor signal results in no data, an adequate signal in perfect data and a low signal in either none or all.
Poor digital signal levels do not result, as they do with old-fashioned
analogue
television, in a sub-
standard
picture or sound. Poor signals often result in a perfect data-stream, but are prone to periods of no reception. Sometimes this will be for hours, but can also be several times a minute when caused by induction from fridges, freezers, central heating systems, two-stroke scooters, baby monitors and so on.
If you have lost ALL your Freeview channels
First disconnect the
aerial
lead from the Freeview box or TV set and reconnect it and then follow
this reset procedure
to
scan
for channels again. If this does not result in
services
being restored, check the
Freeview transmitters page
to see if there are any
engineering
problems with your local transmitter.
How to check all cables, connectors and aerials
The RF connectors need to be in very good condition to work. There are two general types:
Factory-fitted connectors are very reliable as they cannot easily be taken apart, but they can be damaged by wear and tear. On the female-type the central section is often composed of two parts which can often be forced apart, resulting in a poor connection you can push them back together if this has happened with a pair of tweezers. On male connectors if the central pin is damaged, you will need a new
cable
. If there are any loose partials in the connector, remove them.
Another problem with these cables is that quite easy to sprain the connector at the back which causes little obvious external damage, but disconnects the internal connection. This happens often when a set-top box is pushed backwards into a cabinet.
Hand made cables can also suffer from similar problems to factory made ones and they are also prone to accidental damage from a cable being pulled. If such a connector is not firmly attached to the cable, the connector may need refitting.
Cables
Make a visual check of the cables. There are a few basic checks:
If the cable has been slashed or cut, it will not be very effective or reliable. If such a cable is fitted externally, this can allow rainwater to enter the cable and this will reduce the signal levels.
You can easily damage an RF cable by crushing it, for example in a door. If the outside of the cable has a permanent kink in the cable or has been very tightly looped, this could be the site of damage.
Aerial
For reliable and effective Freeview reception, a
rooftop aerial
is required. It is hard to make a visual check of such an aerial without putting yourself in potential danger.
You can make a visual check of the route between the aerial and the transmitter. Any form of obstruction will damage the digital signals. In particular trees coming into leaf, as these will leech the signal before it reaches your aerial. This applies to both trees adjacent to the aerial and at a distance.
Another common problem in cities is building work. A large crane will often change position many times during the day, and if this is between your aerial and the transmitter this can reduce the signal levels in an unpredictable way.
If your system uses a
booster
, the
power
may have failed. Check the fuse to the power to the
booster
.
Weather problems
There are two main weather problems that effect Freeview reception.
The
Inversion Effect
: please see
What is the Inversion Effect and why does it effect my Freeview TV reception?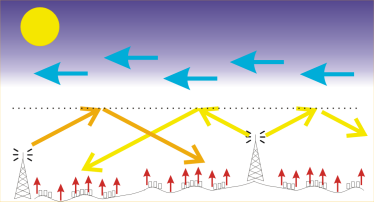 Wind: high winds sometime can dislodge the aerial this results in a poor signal.
Rain: poor or old cables can fill with water and this results in a poor signal. If this happens, the cables will require replacement.
Comments
Friday, 26 October 2012
N
Nick W
9:50 AM
North Tawton

I receive my Freeview from Huntshaw Cross, about twenty miles away. All of a sudden channel 56 showed low signal strength and the programs would break up. I followed the procedure of removing all channels and then doing a new installation scan and now none of the channels that use 56 are listed. Everything was fine a few days ago.

Nick W's 1 post
Saturday, 3 November 2012

Hi, I have a Toshiba TV which is less than a year old.
It has in built free-view and since I moved in to my flat in July this year it has worked perfectly. However, when I turned it last Friday 2 Nov it has lost all channels and despite countless attempts to retune it, including first time installation, it cannot find any channels whatsoever.
I am using a communal ariel that deserves 8 flats in Stevenage, Herts. I am at a total loss as to what to do to sort out.


Sal's 1 post

Sal: As you are using a communal aerial system then the obvious question would be, have you checked with anyone else in the block for purposes of finding out if the problem is also affecting them?

By the way, "if" the problem is with the communal system then because you have already carried out a retune you will require to keep trying more retunes before you will know if the situation has been rectified, this being the reason why retuning should never be carried out on a Freeview box if the screen is blank, as all thats achieved is to wipe out everything already stored.

If the situation has not been rectified as yet, maybe you could indicate the model number of the TV in question.

jb38's 7,179 posts
Tuesday, 6 November 2012

lost itv1/C5 in lowestoft nr33

Andy's 1 post
Monday, 12 November 2012

I have two freeview boxes & one built into TV (two unstairs/one down)the two boxes have lost ALL freeview channels, I've tried re-set, unplugged, taken cables out & put back, switched off booster box (in loft) & turned back on & still have no channnels & on the box (Unstairs)it only comes up as 34% signal, down stairs no signal at all ( The other one upstairs which is built into the TV & new to the house is fine !!) all freeview boxes were fine up until 3 weeks ago !!?...any ideas as I'm getting lost reading all the other quotes (Post Code HP2). Any ideas on my delema..Thanks G

Gary's 6 posts
Monday, 26 November 2012

Has Winter Hill got problems or had changes made recently. In LA 11 we (us and various friends and neighbours) all appear to be suffering a loss of signal for most channels down to 30% or 40% at most on some days making even the main channels non existent or breaking up. I am fed up with constant retuning, have checked and rewired the aerial but all to no avail. Any ideas anybody

Brian Clark's 1 post
Sunday, 23 December 2012

I have a 1.8 mtr dish here in Totana southern Spain, It is said we will loose all channels from the UK very soon, anybody tell me what size dish will be required to get anything at all

Gordon Atkinson's 1 post

Gordon Atkinson: Check this URL:-

www.satandpcguy.com link icon Astra 2F Satellite. Astra 2F Footprint Map. Signal Map. Astra 2F reception in Spain. Astra 2F Signal Map. Astra 2F Costa Blanca Sky tv in Spain

Les Nicol's 991 posts
Wednesday, 20 February 2013

At 20:30hrs the film I was watching vanished only to be replaced with a "no signal" message. I checked other channels, BBC1 was very broken, BBC2 was fine, no other channels had a signal. Then my husband walked in and tried a re-tune - we lost everything as a result. I've tried turning if off for an hour, and even tried a factory reset, all to no avail. It's too dark to look at the aerial right now but I can't imagine that something has changed that suddenly. Still, I will try to look tomorrow. In the meantime, any help would be GREATLY appreciated?

Heidi's 1 post

Heidi: It is absolutely impossible for anyone on this site to give advice on your problem when you have not indicated your location, this in the form of a post code or one from a nearby shop etc, as only then can the reception predictor be accessed and which also gives details of the transmitter(s) that covers your area.

jb38's 7,179 posts
Select more comments
Your comment please