Freeview reception has changed?

Brian Butterworth published on UK Free TV
From time to time people find that their Freeview box, integrated set (idTV) or Personal Video Recorder (PVR) has lost many channels without any apparent changes.
There are a number of factors to consider
Freeview is broadcast on
digital
multiplexes. This means that, once broken down into a stream of bits, each television
channel
is combined into a single transmission of 1s and 0s. This means that
reception
is of the
multiplex
first if this is lost it affects all the channels in the multiplex in the same way.
The
signal
strength received by
the box
or TV for a particular multiplex from a given
transmitter
determines if the data can be received or not. So, a poor signal results in no data, an adequate signal in perfect data and a low signal in either none or all.
Poor digital signal levels do not result, as they do with old-fashioned
analogue
television, in a sub-
standard
picture or sound. Poor signals often result in a perfect data-stream, but are prone to periods of no reception. Sometimes this will be for hours, but can also be several times a minute when caused by induction from fridges, freezers, central heating systems, two-stroke scooters, baby monitors and so on.
If you have lost ALL your Freeview channels
First disconnect the
aerial
lead from the Freeview box or TV set and reconnect it and then follow
this reset procedure
to
scan
for channels again. If this does not result in
services
being restored, check the
Freeview transmitters page
to see if there are any
engineering
problems with your local transmitter.
How to check all cables, connectors and aerials
The RF connectors need to be in very good condition to work. There are two general types:
Factory-fitted connectors are very reliable as they cannot easily be taken apart, but they can be damaged by wear and tear. On the female-type the central section is often composed of two parts which can often be forced apart, resulting in a poor connection you can push them back together if this has happened with a pair of tweezers. On male connectors if the central pin is damaged, you will need a new
cable
. If there are any loose partials in the connector, remove them.
Another problem with these cables is that quite easy to sprain the connector at the back which causes little obvious external damage, but disconnects the internal connection. This happens often when a set-top box is pushed backwards into a cabinet.
Hand made cables can also suffer from similar problems to factory made ones and they are also prone to accidental damage from a cable being pulled. If such a connector is not firmly attached to the cable, the connector may need refitting.
Cables
Make a visual check of the cables. There are a few basic checks:
If the cable has been slashed or cut, it will not be very effective or reliable. If such a cable is fitted externally, this can allow rainwater to enter the cable and this will reduce the signal levels.
You can easily damage an RF cable by crushing it, for example in a door. If the outside of the cable has a permanent kink in the cable or has been very tightly looped, this could be the site of damage.
Aerial
For reliable and effective Freeview reception, a
rooftop aerial
is required. It is hard to make a visual check of such an aerial without putting yourself in potential danger.
You can make a visual check of the route between the aerial and the transmitter. Any form of obstruction will damage the digital signals. In particular trees coming into leaf, as these will leech the signal before it reaches your aerial. This applies to both trees adjacent to the aerial and at a distance.
Another common problem in cities is building work. A large crane will often change position many times during the day, and if this is between your aerial and the transmitter this can reduce the signal levels in an unpredictable way.
If your system uses a
booster
, the
power
may have failed. Check the fuse to the power to the
booster
.
Weather problems
There are two main weather problems that effect Freeview reception.
The
Inversion Effect
: please see
What is the Inversion Effect and why does it effect my Freeview TV reception?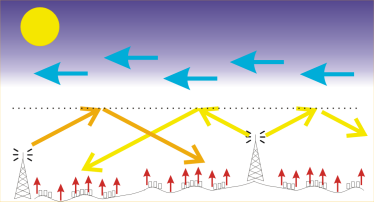 Wind: high winds sometime can dislodge the aerial this results in a poor signal.
Rain: poor or old cables can fill with water and this results in a poor signal. If this happens, the cables will require replacement.
Comments
Friday, 13 July 2012

Daniele Wiseman: Yes, I see that there is quite a difference in signal strength indications between day and night time and with a certain unbalance between the muxes in use, this of course not exactly being uncommon as signals from each of the six muxes used by Freeview very seldom ever reach a receiving aerial with the same intensity.

I am still not sure if your Toshiba's are using the outside aerial or not? but which ever one of you aerial leads is known to give the most consistent level of signal then this should be used as the master feed and likewise connected into the input a four way booster / splitter of the types shown in the link below, then each of its four outputs being fed to your various receiving devices, as this will then guarantee that each device is receiving exactly the same level of signal as well as them not affecting each other by pulling the signal down.

If by the way you only wanted your downstairs reception to be boosted then the single output booster shown on the Argos link is perfect for the job, as its by far the most powerfull of all "but" is also fitted with a variable gain just in case the signal goes over the top, this equally as bad as being weak and giving exactly the same symptoms as such.


4 way Amazon SLX 12db gain each port
SLx 27820R 4-Way Aerial Distribution Amplifier: Amazon.co.uk: Electronics

4 way Philex
- -
Video Cables, Aerial RF, RF Boosters from kenable

Argos 534 /4235
Buy Plug-In 1 Way TV Aerial Signal Booster at Argos.co.uk - Your Online Shop for Television aerials and boosters, TV aerials, boosters and accessories.




jb38's 7,179 posts

Thanks we'll try the Argos 1 way TV aerial signal booster and sorry if I wasn't clear about the Toshiba's - there are two. There is one in the bedroom fed by the outside aerial and there is one in the dining room which does not use the outside aerial, we just have an aerial we bought in Tesco which is an indoor aerial and is fine if you don't walk around!!

Daniele Wiseman's 6 posts
Saturday, 14 July 2012

Daniele Wiseman: I did realise two Toshiba's was involved in your set up but wasn't quite sure about their aerial arrangements, although when the bedroom Toshiba uses an outside aerial and the other an indoor type, then that makes it easy to compare the signal levels between both to determine which aerial is giving the best signal, of course making sure that they are both tuned to the same station.

If though the outdoor one is the best then for success it really requires it to be fed into a four way splitter, then the splitters four outputs distributed to the various rooms.

Still the single input / output device you have chosen is perfect for the purpose of boosting the downstairs signal, although it would still have been better if it was coupled into the aerial with the best signal.

jb38's 7,179 posts
Wednesday, 25 July 2012

Help, Just retuned, and now BBC1 is tuned to LONDON not EAST where I live, just 15 miles from Sandy Heath. Any suggestions. Thanks.

Paddy Webber's 1 post

Paddy Webber: Without knowing if you are referring to 15 miles North or the same South of Sandy, but you should carry out another complete re-tune just in case there was a minor glitch somewhere along the line when the rescan was taking place, as Sandy's BBC is on mux Ch27 whereas Crystal Palace is Ch23.

If though another rescan doesn't correct the problem then carry out a factory reset on whatever you are using to blank out anything stored, or if this isn't an option carry out another rescan but with the aerial removed, then once completed reconnect the aerial and go into the manual tuning menu entering Ch27 into the box provided and follow this by pressing "search" or "scan".

Once the channels are stored use the "find additional channels" to recover the five remaining muxes. (or four if you don't have HD)


jb38's 7,179 posts

Paddy Webber: There is a large overlap of the coverage areas of the Crystal Palace and Sandy Heath transmitters. When scanning for channels, the CP signal on C23 is found before SH on C27, so BBC London channels are placed in the usual positions in the channel list, then when the SH signal is scanned, upon detecting a regional variation, many tuners will put either BBC1 East, (or sometimes all the channels on PSB1 from SH) into vacant positions in the channel list, usually in the 800s. Some receivers offer an option to select a regional preference for the allocation of channels into the LCN positions, but on receivers not having this facility it will be necessary to clear the channel list, then do a manual tune of each of the Sandy Heath frequencies to store the correct set of channels.

KMJ,Derby's 1,811 posts
Friday, 27 July 2012

the heat of the day causes a lot of channels to disappear but once it cools down in the evening they come back ti is definatly the heat playing havoc with tv stations in northamptonshire.

nanny janny's 1 post
Monday, 20 August 2012

Downstairs TV is perect butupstairs will only retune in the daytime and then in the evning I lose all stations and it will not retune in the evening. I have a roof aeries with a booster on it. TV is only
3 weeks old and LED digital.Is thius area not yet completely digital?

c keenan's 2 posts

TV wont return in the evening when I lose all stations
What can I do?

c keenan's 2 posts

c keenan: Simple question do you switch off the tv downstairs at the mains at night if you do you could be switching something else off like the power suply to your amplifier look for a white box that plugs into the mains your aerial will also go into this box, if so put this box onto a different plug and leave on all the time and upstairs should stay on.

Mazbar's 384 posts
Select more comments
Your comment please