Freesat reception - all about dishes

Brian Butterworth published on UK Free TV
Satellite reception has both advantages and disadvantages compare with terrestrial (aerial) reception.

By using much higher frequencies (gigahertz, compared to terrestrial televisions megahertz) more transmission channels called transponders (the satellite equivalent of multiplexes) can be provided. For example, there are only six Freeview multiplexes, but Sky or Freesat users can access two hundred satellite transponders.

Aside from exceptional weather conditions (very heavy rain for example) digital satellite provides stable pictures and audio. Where Freeview transmitters are no more than 732 metres above sea level, the geostationary satellites used for television are 35,800,000 metres above the equator so reception is possible even where buildings, trees and hills make terrestrial reception impossible.





The downside of the transmitters being 22,300 miles up in the air is that the signals are very, very weak - so standard TV aerial is of little use. When the signals are sent to the satellites, huge dish transmitters are used to uplink the signal to the satellite. These are tens of metres from side to side, and feature an emitter that generates the signal, which is first bounced of a mirror (called a reflector) and then off the surface of the parabolic dish.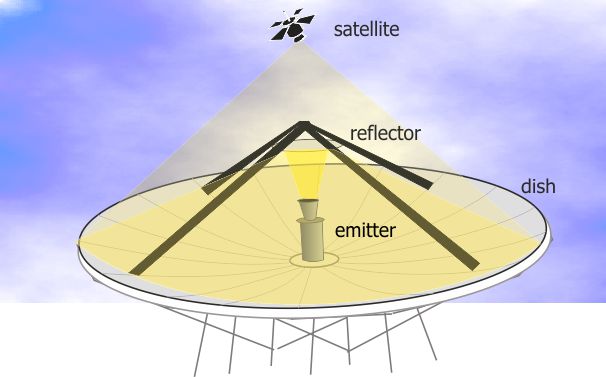 There are many satellites in the sky over the equator. Often these are in clusters over a particular position, for example there are four used for UK television are at 28.2 degrees east. There is another cluster over the 19.2 degrees east positions that are used for German television.

To receive these very weak signals from the satellite, it is necessary to use a dish for reception too. By using a reflective dish, this concentrates the signals onto a small device called a LNB. This is held in front of the dish by a metal arm.




The size of dish for reception is typically much smaller; often 60cm to 100cm in diameter, but the exact size depends upon the transmitting satellite transponder. To keep the transmission power levels down to levels that can be powered by the satellite's solar panels, each beam is focused on a particular area of the Earth's surface. If you are trying to receive the signal at the centre of this zone, a small dish is required. At the outer edges, you may need a 5 metre dish. Maps of these zones are provided by the satellite companies, and are called satellite footprints.

When the dish is installed it must be aligned carefully as the signal is very weak. The installer needs to know the inclination and the azimuth from the ground location to the satellite. If you install yourself you will find that there are markings on the dish that are used to point the dish in the correct position. It is important that the view of the satellite will not be blocked, so must take into account leaves growing on trees and potential building works.

For many people the LNB will have a single cable connected to it, however if you have Sky+ or a multi-room installation the LNB package will actually contain four receivers a quad-LNB. Unlike terrestrial television where you can split the aerial cable to feed more than one Freeview box or television set, with satelite reception you cannot. So, a Sky+ box with two receivers (so you can watch one thing and record another) has two cables connecting the box to the dish.

The cable that connects the dish to the receiver must be satellite grade cable. Whilst this looks superficially like the cable used to connect and aerial to a television, a higher grade cable is required for satellite reception.

Here is an image of a co-axial cable. This sort of cable is used to connect any type of receiving aerial to the reception equipment.




RG6, PF100 and PH100 are all types of coax cable that are suitable for the very weak signals that are received by a satellite dish. (The power is the same as you would receive from a one-bar electric heater on the moon).

The conductor in the centre passes the signals received from the dish to the set-top box. This is made from steel in RG6 cable, and from copper in the RF100 and PH100 types. This makes RG6 less suitable in the UK where rain can damage the cable.

The shielding is responsible for keeping unwanted external interference from damaging the signal. In the cheaper cable this will be a foil wrap, in better specified cables this is a braid (or mesh) of copper wires. The sheild in the RF100 covers 58% of the cable.

The non-conducting layer between the shield and the conductor is called the dielectric. This can be either a solid (RG6), foam (RF100) or air-spaced (PH100) dielectric. This makes the cables progressively more flexible (ie bendy without damage).
Comments
Thursday, 11 June 2015

Eric I have a Passion+ (and an older Passion) and neither have ever received Channel4 HD - I thought it was a known weakness.
My BBC1 HD reception is OK but my 3Sat HD is also jerky (3Sat SD is fine). I seem to have lost ITV1 HD completely on the Passion+ at present. I always wondered if these old boxes struggled with better quality transmissions. There is a huge difference for example between 3Sat SD (good) and ITV4 SD (poor) so maybe the HD channels vary similarly with the better transmissions being too much for the Passions to cope with?
I do most of my satellite viewing/recording now on a Panasonic DMR-BST700 Bluray recorder and it is in a different league with excellent reception on all channels/satellites so maybe you should think of upgrading?

Neil Bell's 106 posts

Eric - Mike's comment was before yours!BRIAN - could you make the dates in this nice new format more obvious than light grey print on light grey background?In reply to Eric; could be differences - esp if different satellites used. Hopefully someone up to date with the "gen" ** will comment.** prehistoric geek for "information"

steve p's 1,173 posts
Wednesday, 15 July 2015

steve p: Hi. Yes, the dates should now be black again.

Briantist's 38,844 posts
Wednesday, 22 July 2015

Response to Neil Bell:
You definitely need to update your Passion+. Start with a print of the data on website http://www.lyngsat.com/As…tml, which I will call your paper list. This gives you the details for each of the frequencies transmitted by Satellites Astra 2E, 2F and 2G which you will need to check for (and possibly add) in your Passion+.
On your remote control, press the 'Menu/Exit' button and scroll down to 'SAT/TP Edit' (press). Find 'Astra 2A
or 2F 28.2E and press the 'OK' button. You can select 'Edit' to change the name of the satellite if you wish, and then the 'return (curly arrow)' button.
Press the 'Right' button to highlight the data on the right of the screen. You will notice that the frequencies listed may or may not correspond to some of those on the paper list. In any case, it would be worth checking an entry, even if that frequency is listed on screen. So, press the red button for 'Edit Mode', select 'Edit'. You now have a window with the frequency, polarity (Hor or Ver), the sampling rate (S/R), the 'DVB Standard, 'Modulation', 'FEC' and 'Pilot' (this could be set to 'Auto'). Check your paper list of data and change the settings if necessary.
If you find that one of the frequencies on your paper list is not in the screen list, you will need to add it. Press the red button again and you will see the same window as before. Enter the required frequency, polarity, sampling rate, DVB Standard, Modulation (if you need to), FEC (the figure given or 'Auto') and Pilot (can be 'Auto'); press 'OK'.
When your happy that your screen list is up-to-date, press 'Return' and select 'Multisat Scan'; select your satellite (Astra 2E,2F,2G) by pressing 'OK'. Press 'Right' button and select 'Channel type' (say TV) and 'Scan type' (say Free). That done, press the red button to start the scan.
Unfortunately, this does not remove previously located channels (you can do this elsewhere); newly-found channels are just added to the end of the stored data.
Another thing to consider before you scan; the system information. This can be found by pressing 'Right' until you find 'Other Settings', then down to 'System Information', then 'OK'. The key here is the 'Software Date'. If the date is 10Sep2009, then BBC HD is okay, but there are annoying defects. For example, the 'User Setting' of the time, if set to 'off' does not stay as set, so the time "wanders" and recordings are not what they should be. On the other hand, if the 'Software Date' is later, the time setting is retained, but the BBC and CH4 HD channels are "jerky".
So, if you do not do any recording, you need the 2009 software. Changing that is warned-against in the manual, but I have the procedure and I have downloaded all versions of the software (just in case Fortec Star remove them from their website).

Eric's 20 posts

Supplement to 'Response To Neil Bell:
You will note from the Paper list (off the website) that some of the frequencies are used for SKY channels only. Stating the obvious; unless you want SKY channels, there is no need to enter these in the Passion+.

Eric's 20 posts
Thursday, 23 July 2015

Eric It was nice of you to spend so much time suggesting how I update my Passion + but as I said before I now use a Panasonic DMR-BST700 Bluray recorder to watch/record German & Czech programmes so there isn't much point. I did do some scans of the various satellites on my Passion + about a month ago and found I could now receive Channel 4HD but I can get that on Freeview and I still have problems with 3Sat HD on the Passions so they don't get much use now. The one thing I can use my Passion for is to orientate my dish if it gets blown out of alignment. The Panasonic doesn't support the version of Diseqc which can control the motor but only the multi LNB version. However having had to invest in extra LNBs for the Panasonic I find it works better anyway and I was using the 4 quad LNBs for the Passion + as well. You don't have to wait for the motor to move the dish and you can record from different satellites at the same time. I had a look at the German Amazon site the other day and they are now doing a Panasonic DMR-BST940 bluray recorder with triple DVB-S tuners and a 2TB hard disk which is quite tempting!

Neil Bell's 106 posts
Thursday, 30 July 2015

Huge trees blocking sky dish. Please help what can I do to improve signal???

salma's 1 post

salma: Unfortunately not very much! that is apart from having the dish repositioned on another part of your property that possibly does have an unobstructed view of the S/S Eastern view of the skyline.

jb38's 7,179 posts
Saturday, 1 August 2015

salma: Chop them down.

You may find it improves in autumn.

Is it a new dish or anew problem?

steve p's 1,173 posts
Monday, 10 August 2015

Second Response To Neil Bell
Thanks for your resonse on 23 July, which I have just seen. You mention 3Sat HD; is that something you can get with your motorised dish (not 28.2E setting)?
I also have a quad LNB, feeding 4 Passion+ boxes. I have previously avoided recording to built-in HDDs and move my USB drives about, as required. This has been important with the Passion+ because of the occasional sudden re-booting, which renders the drive unreadable. However, connecting the HDD to my computer and going through a 'play file/disconnect safely' procedure would render the drive readable on the Passion+ again.
I note your interest in Amazon (Germany). I don't want to teach granny to suck eggs, but I seem to remember that equipment sold on the continent MAY not do all that you want in the UK. Whether this applies to satellite transmissions as well as terestrial ones - probably not.
One last point: as my 'collection' of Passion+s diminishes with failures, I would like to know if you have come across any other sat boxes which have USB recording facilities?

Eric Brett's 20 posts
Select more comments
Your comment please