How to receive Freeview on your PC

Brian Butterworth published on UK Free TV
If you want to watch digital television, one of the way to do this is use your PC. There are three main options, starting at around only 20.
Option 1: USB box
If you have a laptop computer, or do not wish to take your computer apart to fit a
card
into it, the most straightforward way is to use a USB box.
Once you have purchased
the box
, you first need to
install
some software on your computer. This will come on the CD with your USB package, or you can download the latest software from the company's web site. As a general rule, the on-line software will be a more up-to-date version.
You then plug the box into your
roof
-mounted
aerial
connection, and attach the USB
cable
to one of the USB ports on your computer. If you have USB 2 ports you should use these to get the best possible results.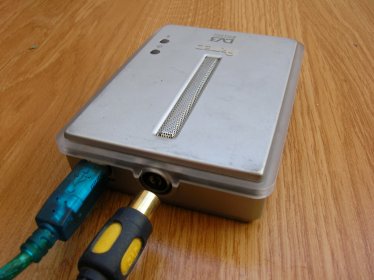 Now start the "Digital TV" software. The first time you use it, you will need to
scan
for the
Freeview
channels
. This can take several minutes (a lot longer than a Freeview set-top box).
Once this has completed, you will be able to select from the Freeview channels that are available in your area.
The software that comes with these boxes has two drawbacks: the
channel
numbers are not the
standard
Freeview ones (in the example,
BBC News
24 is on channel 2 rather than channel 80), and there are no
interactive services
. This means you cannot view
BBC Parliament
at all, or have the graphical screens when listening to the radio channels.
On the plus side, these boxes do support the full 14 day Freeview programme guide. You can use you PC as a PVR (
personal video recorder
) as the software will record the Freeview transmission and
save
them as MPEG-2 (.mpg) files.
Option 2: PCI card
Another option is to use a PCI card. This will keep the equipment within your PC, but does require the confidence to open up your PC.
To install a PCI card you MUST first ensure that your computer is unplugged from the
mains
. It is not enough to switch it off using the button on the front; you must ensure that it is disconnected from the mains.
Locate a free PCI slot - you will need a screwdriver to remove any blanking plate.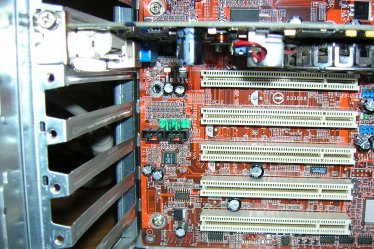 You must ensure that after seating the card firmly in the slot that your digital TV card is securely fastened into the slot. The thick television aerial cables are sturdy and can easily rip out a card that is not firmly fixed.
Once you have replaced the case of the computer, you can then attach the aerial connection to the appropriate connection.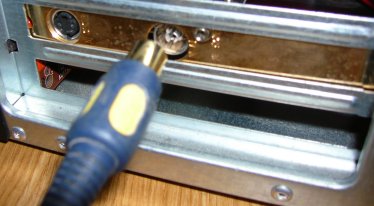 The software installation and operation of the digital television software is otherwise identical to a USB box.
Option 3: Media Center
Microsoft
Windows XP Media Center Edition
2005 has full personal video recorder support, and if you have this version of Windows you do not need to install any software, just one or two PCI cards.
One requirement is that you must have installed some DVD playing software before you can watch the programmes.
The set-up is slightly more complicated than the above, but this results in a easy-to-use programme guide and sophisticated recording facilities.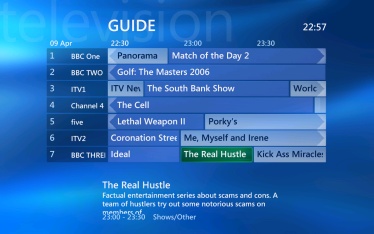 Another advantage of using the Media Center software is that all your recorded TV can be watched by any other PC connected to your home
network
and by any Xbox 360 you may have.
There is now full support for the Freeview digital radio channels, but there are no red button text facilities. However, there is a full BBC News player in Media Center's Online Services menu.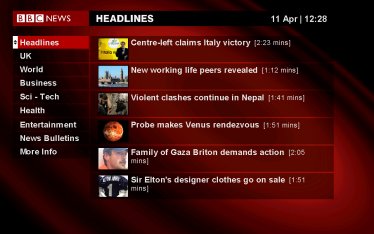 Comments
Thursday, 22 March 2012

Hi, I have freeview installed in my computer (bought like that) I can't connect an outside aerial as it is too far away from the wall, would an indoor aerial work? If yes which one.
. I live in Windsor and don't know what the signal is like, any suggestions would be welcome.
Thanks

Christina's 1 post
Thursday, 5 April 2012

Christina: No, indoor aerials are not suitable for reliable Freeview reception. Why not use a long cable to connect to the aerial socket

Briantist's 38,844 posts
Wednesday, 11 April 2012

Hi
I have a tv downstairs next to a cable modem, wireless router, virgin v+ box (currently) and a Xbox (recently). A PC upstairs is connected through a power adapter thing that works well.
I've connected the Xbox to pc wirelessly and can access Windows Media Player.
I am going to cancel my Virgin tv and telephone (expensive) and replace with a decent Internet broadband service.
My tv aerial comes in downstairs. I can use Xbox for iplayer etc. and may look at Netflix/lovefilm. But to get live tv and be able to record series etc. do I have to get a freeview box/pvr downstairs? Seems daft as I have a media PC upstairs - but to use that, how do I get tv signal up to my PC?
It seems I have enough kit - just in the wrong place. Can't really run a coaxial cable all the way upstairs.
Thanks


Simon T's 1 post
Saturday, 14 April 2012
Andy Hearn
12:12 AM
Bognor Regis

Simon T:
Hi Simon
I use a Wand TV dongle into my laptop, I used Blaze TV software that lets you record (PVR) etc, program guide, usual trimmings.

They supply their own software as well.There are some on Ebay number below.
120559757042
Regards
Andy

Andy Hearn's 11 posts
Monday, 2 July 2012

hi is there a facility for connecting freesat
or skysat to my laptop in the same way as
you connect a digital arial say using kworld?
regards
allan

allan's 1 post
Monday, 9 July 2012
R
Richard Henderson
3:11 PM

I'm really pretty dim at anything technological, but I noticed an ad in the Telegraph for something called a Zennox Internet TV player.. I thought it sounded interesting. We have a Freesat box at home, and in fact find that there's more than enough to choose from here in the UK, but we have a place in Italy, and would love to be able to watch UK TV while there. We have a wireless broadband Internet connection there, and a pretty new TV set on which currently we watch DVDs. We haven't had an aerial installed wto watch Italian TV, as it just isn't worth watching! But I'm now wondering whether there might be a way
for us to be able to watch UK TV either on our mac while out there or (better still) on our TV. Does anyone know?

Richard Henderson's 1 post
Thursday, 26 July 2012

How do i get the Olympic channels in windows 7 mc with my black gold 3650 card?

Dave's 2 posts
Sunday, 2 September 2012

I am thinking of updating my all-in-one pc to another with a higher spec.
My existing pc receives & records TV, but the new one doesn't advertise that facility.
How easy is it to add this capability using my existing aerial? Is it expensive?
Thank you

David's 1 post
Select more comments
Your comment please