Indoor aerials

Brian Butterworth published on UK Free TV
We have tested a number of indoor aerials, to investigate how well they work for Freeview reception.
Simple stick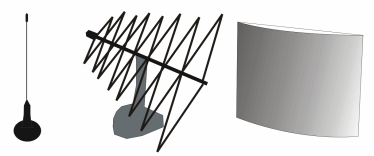 The first is a small 20cm high simple stick
aerial
, costing a few pounds. This was found to give adequate reception of (16QAM-
mode
) Freeview
channels
in strong
signal
areas, especially outside.
However, unless it can be placed in direct sight of the
transmitter
an only unsatisfactory signal can be received.
Indoor Yagi
The second form of aerial is of the Yagi design of around 30cm length, costing around 10.
This aerial was slightly better than the simple stick design, largely because it can be directed to point at the transmitter and be positioned horizontally or vertically as required.
However, in poor signal areas the
64QAM
channels were not received, and the aerial required good placement to get an uninterrupted Freeview signal.
Indoor Panel aerial
This was found to have around the same reception
quality
as the Indoor Yagi type, and cost around the same.
Indoor digital aerial with booster
Costing 25-30, the improvement of the signal provided by a modern internal TV aerial. Typically able to boost the signal by 36dB, this type of aerial when well positioned provided stable, uninterrupted Freeview reception on all channels.
Comments
Tuesday, 24 May 2011

Hi, My old kitchen telly (works off indoor aerial standing on top of it) is dying so I want to buy a new Free View or Free Sat TV to replace it so we're ready for the digital switch over. There is no link to the roof top aerial in the kitchen (nearest link is 3 rooms away where we have SKY too). Is it the height of a rooftop aerial that's important or being outside? Could something on the patio (on a hanging basket hook) be as effective or not? Or am I better to focus on working on getting the signal through from the sitting room? We're renting our house so we're limited in what we can do.

Ruth's 1 post

Ruth - Dependent om where your SKY dish is located it may be an easier option to bring a feed cable from that to a "Freesat" receiver in the kitchen. Your options may be more complex by virtue of you residing in a rented property. Probably best to consult the factor/rental agency beforehand if this means bringing wires through walls etc.

Les Nicol's 991 posts
Wednesday, 1 June 2011

If you struggle to get freeview and have a laptop or PC with a decent intenet connection you could always use TVCatchup - Never Miss A Show Again to watch digital channels you need to register but it's free to use. :)

Tim Bain's 1 post
Thursday, 2 June 2011

Tim Bain: Yes, that's why there are links to it on every page in the Watch Live right hand panel...

Briantist's 38,844 posts
Sunday, 12 June 2011

i use a indoor aerial on my tv in bedroom. Bedroom is attic. Cant install outdoor aerial. Which type indoor aerial do u suggest for freeview. Im in mansfield.

jane's 3 posts
Monday, 13 June 2011

jane: Indoor aerials are unsuitable for Freeview reception. You might be able to get a large aerial to work in a loft space, but I can't really say without a postcode.

Briantist's 38,844 posts

I have a digital TV in my bedroom with built in freeview using an indoor booster aerial. I could get all the channels perfectly then the other morning when I tried to retune, they all disappeared and get a message saying "no signal". I am in Central Scotland.

Also have TV with Freeview box in another bedroom with same booster aerial which I was able to retune sucessfully a few days earlier.

Marion Dunn's 1 post

Marion Dunn: Try removing or turning down the booster.

Mike Dimmick's 2,486 posts

brian bought a one for all indoor aeeial from argos 46 digital aerial as thought with being elect powered it would work. Got nowhere i can have loft aeeial. Connected freeview box . Cant get to work. Without though norm tv work post code ng18 5 sl. Help

jane's 3 posts

its a up to 45db what ever that means

jane's 3 posts
Select more comments
Your comment please