Whole house digital TV

Brian Butterworth published on UK Free TV
Here are some examples of how to make your home fully digital.
Sky+ with multiroom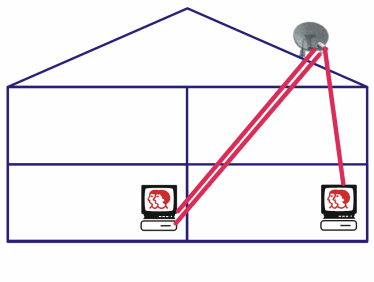 The device on the end of the "arm" of your
satellite
dish
is an LNB. Because the
digibox
sends
power
to the LNB, you can not just split the
cable
onto two input. When you buy a Sky+ package from Sky, it comes with a "quad LNB", which has four outputs. The engineer runs two cables from the dish to the Sky+ box.
You can then run one each to a digibox by up to four televisions. You can either do this though "Sky multiroom" (as shown, with Sky+ in one room and another digibox elsewhere), or by doing it yourself.
Sky+ boxes require a constant authorisation
signal
from Sky over the satellite path. The moment you disconnect
the box
from the satellite inputs or you stop paying Sky the 10 per month the Sky+ box will stop working as a
personal video recorder
, and act like a normal digibox. You can't use the box to record, playback or pause without a Sky
subscription
.
Freesat multiroom - no Freeview
It's not possible to use it to receive
Freeview
, but you can get the
Freesat
service. All you need is either a new DVB-S (digital video broadcasting - satelite) box, or an old Sky Digibox. You can use a Quad LNB to supply digital satellite signals to digiboxes in each room.
Sky and Freeview
It will always be better to use a higher classification
aerial
alone, rather than a less able one with an
amplifier
. With digital signals, it is far more important to get good
quality
reception
for the set-top box, rather than increase the signal's power as this will simply be ignored by the digital
receiver
.
For many people Freeview is used on the main and second TV, in addition to subscription Sky on the first.
Cable and Freeview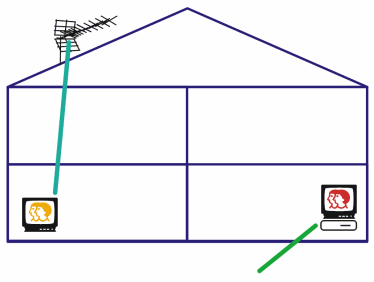 Or you might have NTL/Telewest cable on the main TV, with Freeview for the secondary televisions.
Sky with RF second TV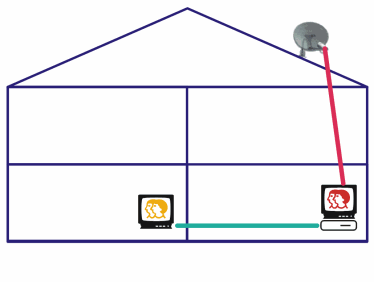 If you connect a second TV to a digibox by using the "
RF output
", this does not require a separate connection to the dish, but you can only watch the same channel from the digibox on both TVs. With Sky digiboxes, you can also use your remote control with a IR receiver by the second TV.
Freesat media center
The PC version of Sky+, such as Media Center:
you can buy as large a hard drive as you want
it's much better than Sky+
you've more chance of HD working
you can share the recorded channels to a local area network, play them on a Xbox360 and burn them to DVD
it records the digital signal, so the playback quality is perfect.
The specification for the Elonex Artisan LX, and it says it comes with the "Hauppauge WinTV Nova-T" cards. The "T" suffix denotes the DVB-T (digital
terrestrial
) version of the
card
. A
satellite version of the card
is available (Elonex may supply these instead of the "-T" cards)?
Wireless networks should be up to the job of sharing the recorded TV programmes to the local network, but it is my personal experience that they are not. You might find it works better by connecting your new Media Centre computer to the wireless router using a cat5 (twisted pair Ethernet) patch cable.
Freeview media center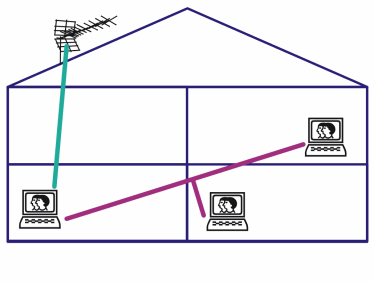 The Freeview media center is easier to setup, as you can just use a simple splitter to provide the UHF Freeview signals to two receiver cards (or a dual-headed card).
Once again the recorded programmes can be watched by using a simple file share, or by using an XBox360.
Freeview everywhere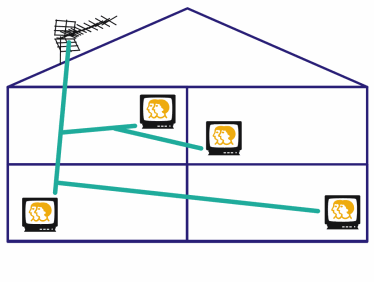 If the Freeview signal is strong, you can usually just split the aerial cable where convenient to supply a digital television signal to many digital televisions or set-top boxes.
Freeview and Sky everywhere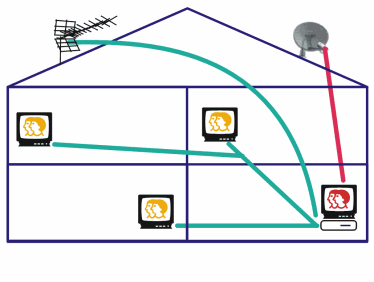 In good signal areas, it will be possible to feed the aerial signal first the the Sky digibox, and then on to integrated televisions or Freeview boxes, adding in the ability to watch one Sky channel around the home.
Freeview everywhere with masthead amplifier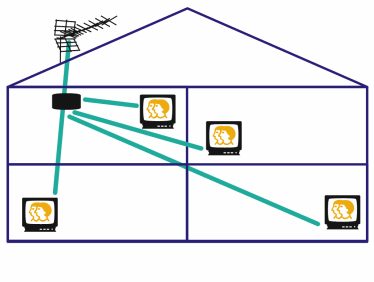 Another possibility is that you are passing the incoming aerial signal though some other device (such as a VCR) that is either filtering or producing it's own signal. If this is the case, see if plugging the aerial directly into one Freeview box will allow you to see these channels. If this works, then you can use a
masthead
amplifier to boost the signal for each digital television or set-top box.
Comments
Thursday, 26 April 2012

to who it may consern can i run two flat screen tellyies one 32 inch one 26inch from one aireal from the roof of my house please let me know

petermckniff's 1 post

petermckniff: In theory, yes as I do same. I have an amplifier/splitter at my aerial though as I live in a poor repecption area. You will nedd to post with your location so that the peolpe who really know will be able to give you a better answer.

david jackson's 7 posts
Saturday, 28 April 2012

petermckniff: Yes,it is easily done.There are
two ways.Either go to your nearest Pound shop
or similar and buy a 2 way coaxial splitter
module.Plug your aerial to the input socket
of the module,and plug the TVs into the
separate output sockets.This way you will
halve the signal level to each TV so it is
not the best way unless you have a strong
signal from a good aerial.Your other option
is to purchase an amplified 2 way aerial
splitter box.This is mains-operated,and will
cost you under £10 in Argos or Maplins.

dennis starr's 18 posts
Friday, 21 September 2012

My digital decoder has blown a fuse and is no longer working. I have an analogue tv so can I put the digital aerial into my sky box and not have to buy another decoder?

Karen's 1 post
Saturday, 22 September 2012

No, Karen. Aerial and satellite signals are completely unrelated.
A satellite dish can be used to feed either a Sky box or a Freesat box, maybe even both at the same time, if you have enough cables coming in from the dish.
But the only signals available via an aerial are now Freeview, which must be decoded by the correct type of box, i.e. a Freeview box or recorder.
A basic box can be as little as £20. Recorders now start below £100, but I've found that the cheapest ones aren't very reliable. The best ones seem to be made by Humax. But if you just want a simple decoder without recording, go to your supermarket and buy one of their cheap boxes.
Good luck.
Derek.

Derek McLean's 10 posts
Thursday, 1 November 2012

I have a freesat box working in the livinroom and would like to run a second tv in the bedroom. What do i need to run a multi room set up. The freesat is connected to a satelite dish outside

Phil's 1 post
Friday, 2 November 2012

Phil: Well its really a case of using a dual system, insomuch that if the LNB fitted on your dish arm is either a dual or preferably quad type then you have to run a second coax feed from one of the spare ports on the LNB to a second Freesat box.

By the way if you were thinking about using a Freesat recorder in the future then it requires two inputs to feed each of the PVR (recorder) inputs, the two inputs necessary for recording two channels at the same time, or alternatively watching one channel whilst recording another, as when dealing with satellite equipment each device requires a separate feed cable, as unlike with Freeview equipment feeds cannot be split.

Just in case this might apply, if you only have an LNB with a single port connection, then you can purchase quad block "kits" (everything necessary) for around £10.00 or so from a few e-bay outlets.

jb38's 7,179 posts
D
Derek McLean
11:29 PM
Dunbar

Phil,

There is an alternative way to rig a multi-TV set-up if you only ever want to watch the same program on them all, e.g. as you move around the house. And it could save you upgrading your LNB.

If your Freesat box has a Scart socket and if you have an old VCR, you can feed the Freesat signal into the VCR and use it as a modulator to then send a signal via aerial cable (co-ax) to the other TVs.

This is how my system works, and it works well.



Derek McLean's 10 posts
Saturday, 3 November 2012

Phil: Yes, the procedure described by Derek McLean is by far the less costly if you arent really bothered about whether or not the channel being viewed in the second room is the same as that in the main room, and although an old VCR does work well when used for this purpose its somewhat cumbersome, and so a stand alone RF modulator such as seen on the link below is commonly used for this purpose.


Programmable Universal Modulator : Video Switches : Maplin Electronics


jb38's 7,179 posts
Monday, 5 November 2012

I have sky+ hd downstairs and the sky engineer run 2 black cables to my bedroom in case I wanted multiroom but I just want to put a free sat box (humax box) is it possible to use those cables in the bedroom and how do I go about it?

Michael bean's 1 post
Select more comments
Your comment please