Freeview reception - all about aerials

Brian Butterworth published on UK Free TV
Updated 8th January 2014.


Your ability of receive all the Freeview transmissions depends on the suitability of aerial
the design style,
the "group", and
its physical location.
Standard type - Yagi aerial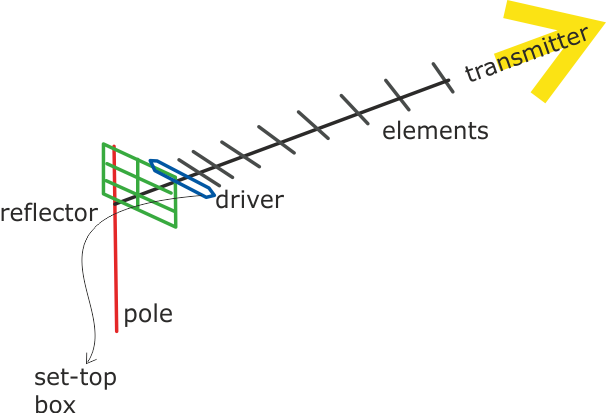 The
standard
type of TV aerial is known as the Yagi aerial. It is mounted on a pole, and consists of a rod with a reflector (shown green) at the back and many spiky elements (in grey) at the front. The connecting
cable
connects to the element nearest the reflector, known as the driver (shown in blue).
These Yagi aerials are directional and so
pick
up signals best from a
transmitter
that the rod points towards. The more elements the aerial has, the better it picks up a
signal
and becomes more directional.
A standard-type aerial is all that is required for
digital
TV
reception
in most places. These antennae have between 10 and 18 elements and a single reflector. These are recommended for new installations for good digital television reception, but will more often than not function perfectly in good reception areas.
Typically these aerials are designed to receive only some transmission frequencies - see "groups" below.
High Gain aerials

These aerials are designed for poor digital reception areas, and have two reflectors. For maximum signal strength, some digital high
gain
aerials have up to 100 elements. Since the
switchover
to digital-only transmissions back in October 2012, most UK households now have good
quality
digital TV signals.
A more expensive aerial is only required where the signal strength is low, but can often provide the whole Freeview reception where it might otherwise be impossible.
The CAI (that represents aerial installers) has four standards for digital TV aerials. The highest standard "1" is for homes on the fringes of coverage areas, intermediate standard "2" is suitable for use within the coverage area; minimum standard "3" is for good coverage conditions.
These aerials can be either
wideband
, or receive only selected frequencies - see "groups" below.
Grid

You may haved used a 'Grid aerial' for
analogue
reception, but as they are generally unsuitable for Freeview reception, they have now generally been replaced by the Yagi type. However in some places a Grid aerial installation may work for Freeview: otherwise replace with a standard Yagi aerial.
Indoor
Indoor aerials
are generally not suitable for Freeview reception. In areas of good signal strength it is often possible to receive some transmissions. Even where an aerial works, people often find that may get interruptions to their viewing (or recording).
Loft mounted
Loft
mounted arrivals are not generally recommended for Freeview reception, as the
roof
tiles and plumbing will degrade the signal. Some compensation for this loss of signal can be made by using
satellite
-grade cable to connect the set top box to the aerial.
Positioning
The best position for a TV aerial is mounted outdoors, as high from the ground as possible, pointing directly at the transmitter. The signal can be blocked by hills and tall buildings. It should be positioned away from any other aerials.
Horizontal or vertical?
The transmitter will either use vertical
mode
which requires the elements of your aerial to be up-down, or horizontal mode which requires them to be level with the ground.
Groups
Both analogue and digital television is transmitted the same group of transmission frequencies (known as
channel
21 through to 60). A coloured marking on the aerial shows the group.

To create the best possible analogue
picture
, TV transmissions from adjacent transmitters have been designated to several different groups of frequencies. By using an aerial that receives only the
channels
in the correct group, the analogue picture can be kept free from
interference
.
To receive Freeview transmissions from the same transmitter it has been sometimes necessary to use frequencies that are not part of the transmitter's normal group. When this has occurred, the aerial will need to be replaced with a "wideband" aerial (also known as group
W
) - one that covers every group.
As
Ofcom
is planning to move the TV frequencies again - perhaps as soon as 2018 - it may be wise to use a wideband aerial if you can to ensure you can keep viewing Freeview for many years to come.
Comments
Tuesday, 15 May 2012

Nigel:The 8 way has a power on light and when switched off the tv loses signal so have to assume it is working correctly. it was certainly working on analogue.

There is no difference in signal between the 8 way in line and it by-passed, but I am relying on leds being lit on the meter. A moving coil meter would probably give me a better answer!

Nigel's 6 posts
Wednesday, 16 May 2012

Mike O'Pray: With regards to "scan", its just that every manufacturer has their own idea about wording, and on the manual tune menu screen there is usually a box for the channel number to be entered into plus underneath a button bar marked scan / tune / search or whatever, that being obviously the next stage in the procedure "if" a person wanted to carry out a manual search, which of course you cut short as you were only using that facility as a fixed channel signal level checker, and with the strength indicated on the channel concerned proving as being inadequate for the TV to lock and why you cannot receive it.

As you may already have gathered, there are quite a number of complaints from people all around the Northampton area who are experiencing reception difficulties with the commercial channels, and it was noticed that most of the problems reported are from people who are all on very similar bearings from the station, Sandy being at 101 degrees @ 41 mls from your own location and another person with similar problems to yourself with a heading of 104 degrees but at only 32 mls from the station, and a third on a bearing of 97 degrees @ 24 mls, so it appears to be the radiation beamed in that particular segment that's deficient.

With regards to your own SDN (ITV3 etc) problem, its a pity that you couldn't manage to get hold of an aerial amplifier of about 15db gain or so for a test as you might well find that the amp would most likely lift the signal level of Ch51 up to above the reception threshold for your set and enable you to view the channel, as apart from that action I cant really see anything else improving your situation except by experimenting with the aerial in different positions, and I am not necessarily meaning being mounted much higher up, as in difficult areas its frequently found to the amazement of some, that a signal can rise coming downwards towards a gutter level, as in non line-of-site situations the signals paths get bent by reflections and this has to be taken advantage of by positioning the aerial in a hot spot thats found to be stable, the type of job only really suitable for DIY as its time consuming.

That said though, trees are a killer if less than a mile away from the receiving aerial.

jb38's 7,179 posts

MO'P - Just as a lookout scans the horizon for ships, your tuner scans the range of frequencies for ones that are sending a signal it can intrepret.

Nigel - are you trying an actual TV as well as the meter for the different conditions?

Do you still have your old box that worked?

Have you comparesd experience with locals?

Stephen P's 1,173 posts

Nigel: These 8 way splitters have minimum gain irrespective of what might be claimed for them, and this is why you dont really notice much difference whether its in circuit or not, as they are really devices thats best classed as a no-loss splitter.

By the way, I am in no way being derogatory about them as they serve a purpose.

jb38's 7,179 posts

jb38 - so do you think an amp might do it for him?

Stephen P's 1,173 posts

Stephen P / Nigel: The aspect of the signal that I would be concerned about is the fact of it fluctuating by about 20% or so as well as it dropping to zero on occasions, as this type of problem is usually always associated with trees as well as in many cases the actual signal received being partly achieved through reflection, and in these type of circumstances using a Unix 52W is liable to be detrimental to reception rather than assist it, this being mainly caused by its relatively narrow pick up acceptance angle of only +/- 15% or so and creating the situation whereby the 52W's output level will drop with even the slightest deviation in the angle that a signal is received from, whereas on an aerial with a wider beam width this would hardly be noticed, or at least very much less!

To help this situation it would be much better to use an aerial such as a DM log or similar through an amplifier, but though (and dastardly as it may seem) if about half the directors on the 52W were removed then that would widen the aerials beam width, then the aerial could be fed into an amplifier of about 10 - 15db or so and with its output being fed into the 8 way distribution amp.

Getting back to the 8 way splitter, the only way that you could properly judge the difference between it being in and out of circuit is to note the level seen on the TV's signal check screen with it in circuit, then pop up to the loft and by-pass the splitter by connecting its aerial input plug straight into the coax that's used to feed the TV being used for checking purposes.

This said taking it that the splitter is self powered.

This is a link for the type of aerial being referred to.

Online TV FM DAB Aerial sales


jb38's 7,179 posts
M
Mike O'Pray
11:33 PM
Daventry

jb38 Thanks for your reply. It seems that there are complaints in this area and some from people closer to Sandy Heath than I am which is bad news for me. What you haven't said is what if anything the "authorities" are doing about it? Any idea?

As far as I am aware I do have an amplifier in the loft. It was fitted several years ago way back in the analogue era. At that time an aerial fitter came and installed two aerials One pointing to Anglia and the other to the E Mids. The reason for this was that in front of the house there is a line of tall trees that block the reception from the W Mids which is Sutton Coldfield but no obstruction in either the E Mids or Anglia areas.

The reception chart seems to show that the E Mids transmitter ( Waltham?) should be much poorer than Sandy Heath but I do get both the E Mids and Anglia news at about equal strength which is strange.

I have the standard Yagi aerials for both directions.

I am confused as to what is being done to address the current reception issue and what I might try to get ITV3 which is the only channel I might want to receive occasionally.

Thanks

Mike

Mike O'Pray's 17 posts
Thursday, 17 May 2012

Mike O'Pray: If the two aerials are diplexed into one downlead, then that could be your problem.

Sandy Heath is traditionally Group A. Waltham is traditionally Group C/D. By "traditionally" I mean in the days of four-channel analogue.

For an explanation of aerial groups, see here:

Aerials, TV Aerial and Digital Aerial

The diplexer will allow certain channels to pass from each aerial. For example, see here:

Online TV Splitters, Amps & Diplexers sales

SDN from Waltham is on C29 which is a Group A channel and therefore won't reach your receiver if there is a diplexer. Also, Sandy Heath's SDN is now on C51 which could be filtered out in favour of the Waltham aerial.

The question is, which aerial are you using to pick up ArqA and ArqB. To find out, go to Pick TV and Yesterday and find out what channels they are on. They may both be coming from Waltham which are 56 and 57 respectively. Or for Sandy they are 52 and 48.

If you are picking up ArqA and ArqB from Waltham, then you will either have to replace the whole lot with a single wideband aerial, or just turn the Waltham aerial round to face Sandy. The suggestion latter assumes that the channel at which the diplexer splits is below C48.

Dave Lindsay's 5,724 posts

MO'P - Multiple aerials may well cause troubles with multi signals.

Can you try one by one and see what works?

UK digital TV reception predictor

Your strongest signals seem to be on higher channels than waek ones, which may get installed first

Stephen P's 1,173 posts

Nigel: Just in addition to my main posting, even although I very much doubt that this would apply, but so that I can completely exclude a niggling thing I have in my mind regarding the possibility of circumstances applying that might (albeit remotely) be the cause of your reception difficulties, I would like that if you have access to a set top aerial could you plug that into the TV and see if anything is picked up, or if you do have access to this type of aerial just try a short piece of wire of about 12" or so connected into the TV's inner part of the aerial socket, giving an update on results.

The only reason I am asking this is, that with you being located at only 27 miles away from the 200Kw transmitter you should (in theory anyway) be getting reasonably good reception without any form of amplification unless some other factor is applying, like as referred to in my main posting.

jb38's 7,179 posts
Select more comments
Your comment please