Freeview reception - all about aerials

Brian Butterworth published on UK Free TV
Updated 8th January 2014.


Your ability of receive all the Freeview transmissions depends on the suitability of aerial
the design style,
the "group", and
its physical location.
Standard type - Yagi aerial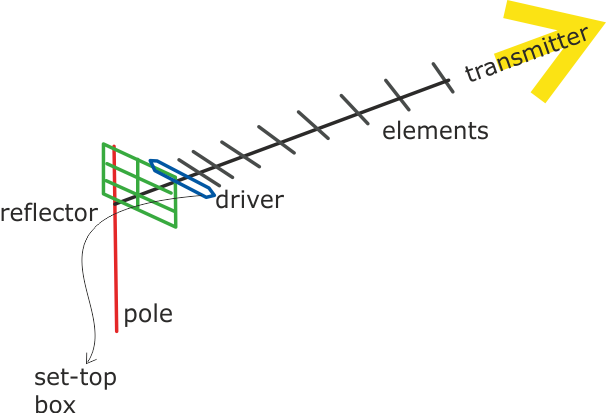 The
standard
type of TV aerial is known as the Yagi aerial. It is mounted on a pole, and consists of a rod with a reflector (shown green) at the back and many spiky elements (in grey) at the front. The connecting
cable
connects to the element nearest the reflector, known as the driver (shown in blue).
These Yagi aerials are directional and so
pick
up signals best from a
transmitter
that the rod points towards. The more elements the aerial has, the better it picks up a
signal
and becomes more directional.
A standard-type aerial is all that is required for
digital
TV
reception
in most places. These antennae have between 10 and 18 elements and a single reflector. These are recommended for new installations for good digital television reception, but will more often than not function perfectly in good reception areas.
Typically these aerials are designed to receive only some transmission frequencies - see "groups" below.
High Gain aerials

These aerials are designed for poor digital reception areas, and have two reflectors. For maximum signal strength, some digital high
gain
aerials have up to 100 elements. Since the
switchover
to digital-only transmissions back in October 2012, most UK households now have good
quality
digital TV signals.
A more expensive aerial is only required where the signal strength is low, but can often provide the whole Freeview reception where it might otherwise be impossible.
The CAI (that represents aerial installers) has four standards for digital TV aerials. The highest standard "1" is for homes on the fringes of coverage areas, intermediate standard "2" is suitable for use within the coverage area; minimum standard "3" is for good coverage conditions.
These aerials can be either
wideband
, or receive only selected frequencies - see "groups" below.
Grid

You may haved used a 'Grid aerial' for
analogue
reception, but as they are generally unsuitable for Freeview reception, they have now generally been replaced by the Yagi type. However in some places a Grid aerial installation may work for Freeview: otherwise replace with a standard Yagi aerial.
Indoor
Indoor aerials
are generally not suitable for Freeview reception. In areas of good signal strength it is often possible to receive some transmissions. Even where an aerial works, people often find that may get interruptions to their viewing (or recording).
Loft mounted
Loft
mounted arrivals are not generally recommended for Freeview reception, as the
roof
tiles and plumbing will degrade the signal. Some compensation for this loss of signal can be made by using
satellite
-grade cable to connect the set top box to the aerial.
Positioning
The best position for a TV aerial is mounted outdoors, as high from the ground as possible, pointing directly at the transmitter. The signal can be blocked by hills and tall buildings. It should be positioned away from any other aerials.
Horizontal or vertical?
The transmitter will either use vertical
mode
which requires the elements of your aerial to be up-down, or horizontal mode which requires them to be level with the ground.
Groups
Both analogue and digital television is transmitted the same group of transmission frequencies (known as
channel
21 through to 60). A coloured marking on the aerial shows the group.

To create the best possible analogue
picture
, TV transmissions from adjacent transmitters have been designated to several different groups of frequencies. By using an aerial that receives only the
channels
in the correct group, the analogue picture can be kept free from
interference
.
To receive Freeview transmissions from the same transmitter it has been sometimes necessary to use frequencies that are not part of the transmitter's normal group. When this has occurred, the aerial will need to be replaced with a "wideband" aerial (also known as group
W
) - one that covers every group.
As
Ofcom
is planning to move the TV frequencies again - perhaps as soon as 2018 - it may be wise to use a wideband aerial if you can to ensure you can keep viewing Freeview for many years to come.
Comments
Monday, 14 May 2012

Mike O'Pray: As was previously stated by Steven P the "factory reset" facility can vary from box to box and indeed is not even an option on some devices, and so to determine if this might be the case with whatever you are using if you provide the model number of the device this can be checked on, as on back tracking through your various postings I don't see it mentioned anywhere.

jb38's 7,179 posts

I am not getting good freeview reception. I am just south of Chichester West Sussex and using the Rowridge transmitter. My aerial is a triax unix 52 cd-w and it is sited in the loft. I have tried the elements both horizontally and vertically. Horizontal gives the better signal. I am using a labgear DVB-T signal finder. the maximum signal strength I am getting is 60db micro Volts ( 2 LEDS lit). This reading is taken 4 feet from the aerial before going into the 8 way distribution box.
Any suggestions would be great


Nigel's 6 posts
M
Mike O'Pray
12:28 PM
Daventry

Thank you jb38. When you refer to the box is this a reference to the TV? I have a Goodmans LD2412F 24'' HD ready Digital LCD TV

I am presuming that as the tuning operation is in the TV the box is in effect contained in the TV?

Separately I have a Panasonic DVD Recorder Model NO. DMR-EX773EB which as you will note from my previous posts seems able improve reception on certain weak channels and indeed even seems to get channels that the TV by itself cannot pick up.

Sadly this is not the case with ITV3 which the TV doesn't seem to recognise and the HDD records as no signal.

I hope this helps

Regards

Mike

Mike O'Pray's 17 posts

Nigel - need your postcode ot know what you SHOULD be getting.

But try by-passing the 8-way box and see if just one works OK.

Is your 8-way powered and getting a power supply?

Stephen P's 1,173 posts

Mike O'Pray: Although I have my suspicions that something "might" be amiss with the masts radiation in the W/NW direction towards the Northampton area as too many people from all around that area are making complaints about bad reception on Ch51 since May 9th for it to be just a coincidence, but if your Goodman's TV allows manual tuning I would like you to go into the tuning menu and enter Ch51 but do NOT press scan, as if any signal is there its strength should immediately appear on the strength bar, if it does then give an update on whatever it might be.

The reason for requesting this action is that I suspect that the Ch51 signal is actually there but at a level that's just underneath the reception threshold as far as resolving a picture is concerned, although this would not stop the level still being seen on a signal check.

I havent as yet had time to check on your Goodman's or Panasonic as far as any known problems are concerned but will try to find time tomorrow, although I dont really think that there is anything to worry about in that respect as it could just be a low signal level that's causing the difficulties, as Ch51 is belting in at not far off 100% strength in the Stamford area where I am located.

jb38's 7,179 posts
Tuesday, 15 May 2012
N
Nigel
11:05 AM
Chichester

Hi stephen
PO20 7RJ
The low reading is before the 8 way box . the box is working ok. I have by-passed the 8 way box using the kitchen and lounge feeds which made no difference.

When looking at the tv screen the signal strength is max 72% going down to 52% and sometimes no signal at all.



Nigel's 6 posts

... UK digital TV reception predictor

You are a little weak for a loft. I assume a roof ae is difficult?

I think an amplifier might do the trick. But is your 8-way splitter not powered? 8-way is a lot for passive splitting.

Presumably you got good pics on analogue?

Did you try digital before switchover?

Stephen P's 1,173 posts

Hi Stephen
The 8 way splitter is powered. The reason the aerial is in the loft is because we are not that far from the sea and the aerial would'nt take long to corrode.

We got excellent pictures with analogue and we had a digi box prior to switch over which I believe gave better results than what I am getting now.
If you are suggesting boosting the aerial signal before going into the 8 way splitter can you recommend a particular amplifier?

Nigel's 6 posts

So long as your 8-way is working that should be enough amplification. Are you sure it is powered and working?

Does your meter see a stronger signal with it in use than by-passed?

Stephen P's 1,173 posts
M
Mike O'Pray
8:35 PM
Daventry

Thanks jb38 The signal strength which is a green/blue bar occasionally and for a split second only jumps to 46% but then back to anything down to 24%. However the most common strength is 33-35%

I don't understand what scan means? There seems to be no button or word scan to be seen.

If there is a problem in the N'pton area and I am about 13 miles to the W of N'pton has there been any acknowledgement of this?because if not then presumably nothing is being done.

Thanks

Mike O'Pray's 17 posts
Select more comments
Your comment please