Freeview reception - all about aerials

Brian Butterworth published on UK Free TV
Updated 8th January 2014.


Your ability of receive all the Freeview transmissions depends on the suitability of aerial
the design style,
the "group", and
its physical location.
Standard type - Yagi aerial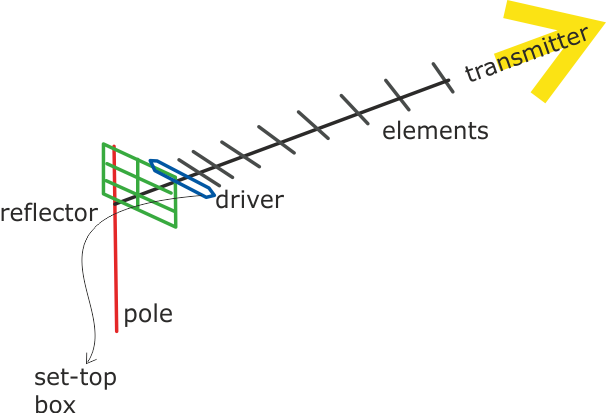 The
standard
type of TV aerial is known as the Yagi aerial. It is mounted on a pole, and consists of a rod with a reflector (shown green) at the back and many spiky elements (in grey) at the front. The connecting
cable
connects to the element nearest the reflector, known as the driver (shown in blue).
These Yagi aerials are directional and so
pick
up signals best from a
transmitter
that the rod points towards. The more elements the aerial has, the better it picks up a
signal
and becomes more directional.
A standard-type aerial is all that is required for
digital
TV
reception
in most places. These antennae have between 10 and 18 elements and a single reflector. These are recommended for new installations for good digital television reception, but will more often than not function perfectly in good reception areas.
Typically these aerials are designed to receive only some transmission frequencies - see "groups" below.
High Gain aerials

These aerials are designed for poor digital reception areas, and have two reflectors. For maximum signal strength, some digital high
gain
aerials have up to 100 elements. Since the
switchover
to digital-only transmissions back in October 2012, most UK households now have good
quality
digital TV signals.
A more expensive aerial is only required where the signal strength is low, but can often provide the whole Freeview reception where it might otherwise be impossible.
The CAI (that represents aerial installers) has four standards for digital TV aerials. The highest standard "1" is for homes on the fringes of coverage areas, intermediate standard "2" is suitable for use within the coverage area; minimum standard "3" is for good coverage conditions.
These aerials can be either
wideband
, or receive only selected frequencies - see "groups" below.
Grid

You may haved used a 'Grid aerial' for
analogue
reception, but as they are generally unsuitable for Freeview reception, they have now generally been replaced by the Yagi type. However in some places a Grid aerial installation may work for Freeview: otherwise replace with a standard Yagi aerial.
Indoor
Indoor aerials
are generally not suitable for Freeview reception. In areas of good signal strength it is often possible to receive some transmissions. Even where an aerial works, people often find that may get interruptions to their viewing (or recording).
Loft mounted
Loft
mounted arrivals are not generally recommended for Freeview reception, as the
roof
tiles and plumbing will degrade the signal. Some compensation for this loss of signal can be made by using
satellite
-grade cable to connect the set top box to the aerial.
Positioning
The best position for a TV aerial is mounted outdoors, as high from the ground as possible, pointing directly at the transmitter. The signal can be blocked by hills and tall buildings. It should be positioned away from any other aerials.
Horizontal or vertical?
The transmitter will either use vertical
mode
which requires the elements of your aerial to be up-down, or horizontal mode which requires them to be level with the ground.
Groups
Both analogue and digital television is transmitted the same group of transmission frequencies (known as
channel
21 through to 60). A coloured marking on the aerial shows the group.

To create the best possible analogue
picture
, TV transmissions from adjacent transmitters have been designated to several different groups of frequencies. By using an aerial that receives only the
channels
in the correct group, the analogue picture can be kept free from
interference
.
To receive Freeview transmissions from the same transmitter it has been sometimes necessary to use frequencies that are not part of the transmitter's normal group. When this has occurred, the aerial will need to be replaced with a "wideband" aerial (also known as group
W
) - one that covers every group.
As
Ofcom
is planning to move the TV frequencies again - perhaps as soon as 2018 - it may be wise to use a wideband aerial if you can to ensure you can keep viewing Freeview for many years to come.
Comments
Sunday, 6 May 2012
M
Mark Fletcher
4:50 PM
Halifax

Simon Jacobs.If you leave a full postcode preferably to ascertain which transmitter(s) or relay(s) you are using at your location,hopefully we will give you further assistance as such.

Mark Fletcher's 673 posts
M
Mark Fletcher
4:55 PM
Halifax

Fuming.I fully agree with Stephen P on his reply to your post.Unless you either provide a full post code preferably or a nearby location as such,we cannot be of valuable assistance to you !

Mark Fletcher's 673 posts

Simon - take your small bedroom TV and box to one of the other places and see if you get all channels.

Stephen P's 1,173 posts

Simon Jacobs: Ditto Stephen P's post.

You have two unknowns. That is you need the TV tuned in order to use it to help you site the aerial and in order to tune the TV you need to site the aerial where it can pick up all channels.

The answer is to remove one of the unknowns by tuning the TV in using an aerial that is known to work.

Your set-top aerial should be pointed to Rowridge and should be set vertically. Your chances of success diminish as you get more things in the way. For example, it is best to be at the side of the house to which the signal originates.

Whilst I cannot be absolute, a correctly sited set-top aerial at your distance from the transmitter should work fine without any amplification. I emphasise that this is no guarantee that it will work where you want it to work.

I have a Labgear Set-top Aerial and have used it successfully without a booster before switchover when the transmitter was at 10kW at a distance of about 25 miles with pretty good line of sight (at roof level).

I suggest that you look at siting the aerial without any booster. Get a feel for where is the best place.

Dave Lindsay's 5,724 posts
Saturday, 12 May 2012
M
Mike O'Pray
9:52 PM
Daventry

I did what I think is the final re-tune on 9 May and now cannot receive any signal for ITV3 as of Saturday 12 May.

How do I now get ITV3?

Thanks

Mike O'Pray's 17 posts

Mike O'Pray: Sandy Heath is indicated as your
best bet for reception and so try manually tuning in mux channel 51, this being the new high powered channel that ITV3 is now being transmitted on from Anglia, although before doing that check to make sure that ITV3 is not up in the 800 ranges as it is indicated that its possible to pick up alternative transmitters from where you are located.

That being said, you should really carry out a factory reset on your TV box before carrying an auto tune, as this deletes any corrupted data that may be stored in the memory.



jb38's 7,179 posts
Sunday, 13 May 2012
M
Mike O'Pray
10:14 PM
Daventry

Thanks I did a manual re-tune and not an auto re-tune and in fact the only change required from the situation before 9 May was that group 3 which was 31 became 51. Thus I assume that I did what you are recommending.

On your second point how do I do a factory re-set before carrying out an auto tune or are you saying that doing it manually as I did that this is not required?

Thanks

Mike O'Pray's 17 posts

MO'P - varies from box to box. Some will have a Menu item "Factory Reset". Others "First Time Install" others "Complete retune"

Stephen P's 1,173 posts
Monday, 14 May 2012

Mike O'Pray: What I was really getting at is, that the carrying out of a factory reset is the only guaranteed way to completely delete everything stored in a TV or boxes memory whereby you are starting afresh, as in some brands of equipment a simple auto-tune does not necessarily clear the list of everything stored and which can cause all sorts of tuning problems dependant on the brand of equipment being used.

This can also affect a manual tune, and taking Sandy Heath as an example if programmes were stored in the EPG list from the old SDN frequency (Ch31) and mux channel 51 was selected for a manual tune to update the list, then on a Panasonic and a few others although the tuner might find the programmes that's moved mux 51 it will still not store them associated with the new operating channel, this making it whereby if EPG10 (ITV3) is selected a "no signal received" message might be displayed as the box considers that these programmes are still on the previous frequency.

Its just that there isn't really a standard for this type procedure and the results obtained can vary quite considerably from brand to brand, but whatever it might be its always best to start afresh.

If you have found that all is OK then that's the luck of the draw, but unless factory resets are carried out before retuning then the results obtained will always have an element of hit and miss attached to them.


jb38's 7,179 posts
M
Mike O'Pray
12:44 AM
Daventry

Thanks you are talking to a complete beginner here who only wants to find channels he previously had and has minimum interest in the technicalities

However I take your point that a reset/ fresh install may be needed. However I am no nearer understanding what I need to do. My menu doesn't seem to show factory reset or first time install or complete retune.

What info do you need from me to give me a step by step procedure to do what I need to do to " start afresh"

Please keep it simple. I think I got the gist of what you were saying, jb38, about the necessity of starting again but most of what you said in your text went over my head

Thanks



Mike O'Pray's 17 posts
Select more comments
Your comment please