Freeview reception - all about aerials

Brian Butterworth published on UK Free TV
Updated 8th January 2014.


Your ability of receive all the Freeview transmissions depends on the suitability of aerial
the design style,
the "group", and
its physical location.
Standard type - Yagi aerial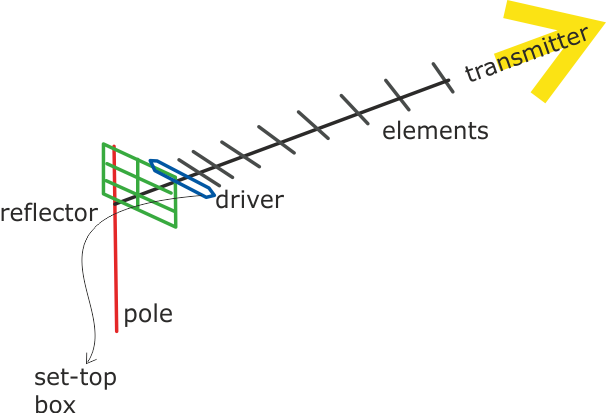 The
standard
type of TV aerial is known as the Yagi aerial. It is mounted on a pole, and consists of a rod with a reflector (shown green) at the back and many spiky elements (in grey) at the front. The connecting
cable
connects to the element nearest the reflector, known as the driver (shown in blue).
These Yagi aerials are directional and so
pick
up signals best from a
transmitter
that the rod points towards. The more elements the aerial has, the better it picks up a
signal
and becomes more directional.
A standard-type aerial is all that is required for
digital
TV
reception
in most places. These antennae have between 10 and 18 elements and a single reflector. These are recommended for new installations for good digital television reception, but will more often than not function perfectly in good reception areas.
Typically these aerials are designed to receive only some transmission frequencies - see "groups" below.
High Gain aerials

These aerials are designed for poor digital reception areas, and have two reflectors. For maximum signal strength, some digital high
gain
aerials have up to 100 elements. Since the
switchover
to digital-only transmissions back in October 2012, most UK households now have good
quality
digital TV signals.
A more expensive aerial is only required where the signal strength is low, but can often provide the whole Freeview reception where it might otherwise be impossible.
The CAI (that represents aerial installers) has four standards for digital TV aerials. The highest standard "1" is for homes on the fringes of coverage areas, intermediate standard "2" is suitable for use within the coverage area; minimum standard "3" is for good coverage conditions.
These aerials can be either
wideband
, or receive only selected frequencies - see "groups" below.
Grid

You may haved used a 'Grid aerial' for
analogue
reception, but as they are generally unsuitable for Freeview reception, they have now generally been replaced by the Yagi type. However in some places a Grid aerial installation may work for Freeview: otherwise replace with a standard Yagi aerial.
Indoor
Indoor aerials
are generally not suitable for Freeview reception. In areas of good signal strength it is often possible to receive some transmissions. Even where an aerial works, people often find that may get interruptions to their viewing (or recording).
Loft mounted
Loft
mounted arrivals are not generally recommended for Freeview reception, as the
roof
tiles and plumbing will degrade the signal. Some compensation for this loss of signal can be made by using
satellite
-grade cable to connect the set top box to the aerial.
Positioning
The best position for a TV aerial is mounted outdoors, as high from the ground as possible, pointing directly at the transmitter. The signal can be blocked by hills and tall buildings. It should be positioned away from any other aerials.
Horizontal or vertical?
The transmitter will either use vertical
mode
which requires the elements of your aerial to be up-down, or horizontal mode which requires them to be level with the ground.
Groups
Both analogue and digital television is transmitted the same group of transmission frequencies (known as
channel
21 through to 60). A coloured marking on the aerial shows the group.

To create the best possible analogue
picture
, TV transmissions from adjacent transmitters have been designated to several different groups of frequencies. By using an aerial that receives only the
channels
in the correct group, the analogue picture can be kept free from
interference
.
To receive Freeview transmissions from the same transmitter it has been sometimes necessary to use frequencies that are not part of the transmitter's normal group. When this has occurred, the aerial will need to be replaced with a "wideband" aerial (also known as group
W
) - one that covers every group.
As
Ofcom
is planning to move the TV frequencies again - perhaps as soon as 2018 - it may be wise to use a wideband aerial if you can to ensure you can keep viewing Freeview for many years to come.
Comments
Friday, 13 April 2012
Idris
4:02 PM


Hi All
Me again.
Is there any body out there who can give me some advice.
Is Formula 1 transmitted on any free to air French terrestial tv chanel?
If so what tv channel is it transmitted on ?

Idris's 16 posts

Idris: I went to Google and put in <<formula 1 broadcasters>>

List of Formula One broadcasters - Wikipedia, the free encyclopedia

Dave Lindsay's 5,724 posts
R
Ray Robinson
7:17 PM
Fareham

Hi, My post code is PO15 6JS and until recently watch digital freeview via my Phillips computer with tv card via Phillips multimedia program. I have an external arial However, I can no longer receive any TV programs such as BBC 1, BBC 2, Itv 1 Channel 4, Channel 5, yesterday, dave, film4 etc. The nearest transmitter to me is Rowridge on Isle of Wight, although I have tried to retune over the last couple of weeks I have been unable to get an effective signal. I have even tried re tuning to the midhurst transmittrt without success.

Please advise a solution, your help would be appreciated.

Regards

Ray Robinson's 1 post

Ray Robinson: As you are located at only 15 miles or so away from the high powered Rowridge transmitter (high power on PSB only) and are using an outdoor aerial then its possible that you are receiving such a powerful signal that its desensitizing or partially blocking your tuner, so if you have access to a set top aerial then for test purposes I would plug that in and carry out a retune.

Should you not be able to access that type of aerial, then you could try another test by using a short piece (about 12") of copper wire connected into the aerial sockets inner section, and as before carry out a rescan.

jb38's 7,179 posts
Saturday, 14 April 2012

Nadia - As you know but others may not, Crystal Palace did phase 1 of switchover on 4 April and will switch off an alogue on 18th.

Also others may not know that in much of London no aerial at all was needed for analogue TV.

I switched to digital in Herne Hill SE24 9QP a few days ago. It is a very good location facing XtalPal and your W2 may be more obscured by buildings depending how high you are and where you face.

I was able to detect digital with no aerial at all, but it was jerky on viewing some channels. I simply connected a fly lead and now all is perfect. You will probably find that almost anything metal stuck in the central pin of the aerial socket will do the job - or go wild and buy an indoor aerial.

Then autotune and you should get the lot.

Do tell how it goes as many others will probably be in same boat.

I found newspaper reports off the London switchover rather annoying. The other 50 million of us switched unnoticed!

Steve P's 1,173 posts
Monday, 16 April 2012
R
Richard
8:58 PM
Abergavenny

Hi,

I've just moved into a flat with a shared antenna in Abergavenny.

The TV signal is very poor, and regularly breaks up with loss of sound particularly in the evenings. The amount of channels we can recieve is very poor, limited to BBCs, some ITV and some of Channel 4's channels, no other channels are found when I tune in the TV.

Is there anything I can do? As it's a rented flat I can't buy a freesat dish or go messing around with the arial.

Many thanks

Richard's 2 posts

Richard: I guess that it is the Commercial channels that you do not receive. These services are broadcast from 80 of the largest transmitters (largest by viewer population). They achieve a 90% coverage of the population.

You are served by one of nearly 1,100 small "filler-in" relays which the Commercial operators don't wish to transmit from. For a more in-depth explanation, see Will there ever be more services on the Freeview Light transmitters? | ukfree.tv - independent free digital TV advice

Google Streetview shows what appears to be the communal aerial on the end of Newmarket Court (November 2010):

NP7 5NB - Google Maps

The aerial is pointing at Abergavenny transmitter. There is also a satellite dish, FM aerial and DAB aerial. The fact that these are all together suggests that they will be distributed throughout the building.

Have you looked for a satellite socket? There may be two sockets to enable satellite recording equipment (e.g. Sky+, Freesat hard drive recorder) to be used. I would have thought that there would be a plate with several different types of socket on for each type of aerial.

You say that the reception you have is poor. Check that it is tuned to the correct transmitter. Do this by going to BBC One and bringing up the signal strength screen. For Abergavenny it will be tuned to C49. Then go to ITV1 and bring up the strength screen and it should say C42. If your receiver is HD, they are on C45. There is no need to check the rest because, for example, BBC Two is the same as BBC One and Channel 4 and Channel 5 are the same as ITV1.

Dave Lindsay's 5,724 posts
R
Richard
10:22 PM
Abergavenny

Thank you very much Dave for your quick reply,

That is indeed the aerial at the end of the block although for us BBC1 is channel 60 and ITV1 is 42 so maybe something is tuned wrong?

There is indeed a satellite socket, so perhaps freesat is the best way to get more channels?

Richard


Richard's 2 posts

Richard: Channel 60 is BBC from the Llanfoist transmitter, so it's not surprising that reception is poor as the aerial faces the wrong way for it.

To correct this, run the automatic tuning scan and unplug it at 61% (this should prevent picking up Llanfoist). Then having done this, check that BBC One and ITV1 are tuned to the correct channels for Abergavenny.

Satellite seems like your only bet for extra channels. If there is only one satellite socket, then I believe that this means that you can only receive one channel at a time (via satellite). In the days of recorders, I would expect that there will be two.

Dave Lindsay's 5,724 posts
Tuesday, 17 April 2012
D
david frost ( frosty )
9:34 AM

when i tuned my panasonic tv i lost all my dvb channels and can not get them back please help

david frost ( frosty )'s 1 post
Select more comments
Your comment please