Freeview reception - all about aerials

Brian Butterworth published on UK Free TV
Updated 8th January 2014.


Your ability of receive all the Freeview transmissions depends on the suitability of aerial
the design style,
the "group", and
its physical location.
Standard type - Yagi aerial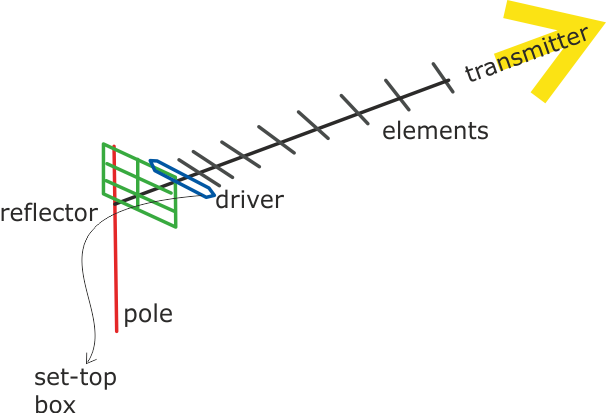 The
standard
type of TV aerial is known as the Yagi aerial. It is mounted on a pole, and consists of a rod with a reflector (shown green) at the back and many spiky elements (in grey) at the front. The connecting
cable
connects to the element nearest the reflector, known as the driver (shown in blue).
These Yagi aerials are directional and so
pick
up signals best from a
transmitter
that the rod points towards. The more elements the aerial has, the better it picks up a
signal
and becomes more directional.
A standard-type aerial is all that is required for
digital
TV
reception
in most places. These antennae have between 10 and 18 elements and a single reflector. These are recommended for new installations for good digital television reception, but will more often than not function perfectly in good reception areas.
Typically these aerials are designed to receive only some transmission frequencies - see "groups" below.
High Gain aerials

These aerials are designed for poor digital reception areas, and have two reflectors. For maximum signal strength, some digital high
gain
aerials have up to 100 elements. Since the
switchover
to digital-only transmissions back in October 2012, most UK households now have good
quality
digital TV signals.
A more expensive aerial is only required where the signal strength is low, but can often provide the whole Freeview reception where it might otherwise be impossible.
The CAI (that represents aerial installers) has four standards for digital TV aerials. The highest standard "1" is for homes on the fringes of coverage areas, intermediate standard "2" is suitable for use within the coverage area; minimum standard "3" is for good coverage conditions.
These aerials can be either
wideband
, or receive only selected frequencies - see "groups" below.
Grid

You may haved used a 'Grid aerial' for
analogue
reception, but as they are generally unsuitable for Freeview reception, they have now generally been replaced by the Yagi type. However in some places a Grid aerial installation may work for Freeview: otherwise replace with a standard Yagi aerial.
Indoor
Indoor aerials
are generally not suitable for Freeview reception. In areas of good signal strength it is often possible to receive some transmissions. Even where an aerial works, people often find that may get interruptions to their viewing (or recording).
Loft mounted
Loft
mounted arrivals are not generally recommended for Freeview reception, as the
roof
tiles and plumbing will degrade the signal. Some compensation for this loss of signal can be made by using
satellite
-grade cable to connect the set top box to the aerial.
Positioning
The best position for a TV aerial is mounted outdoors, as high from the ground as possible, pointing directly at the transmitter. The signal can be blocked by hills and tall buildings. It should be positioned away from any other aerials.
Horizontal or vertical?
The transmitter will either use vertical
mode
which requires the elements of your aerial to be up-down, or horizontal mode which requires them to be level with the ground.
Groups
Both analogue and digital television is transmitted the same group of transmission frequencies (known as
channel
21 through to 60). A coloured marking on the aerial shows the group.

To create the best possible analogue
picture
, TV transmissions from adjacent transmitters have been designated to several different groups of frequencies. By using an aerial that receives only the
channels
in the correct group, the analogue picture can be kept free from
interference
.
To receive Freeview transmissions from the same transmitter it has been sometimes necessary to use frequencies that are not part of the transmitter's normal group. When this has occurred, the aerial will need to be replaced with a "wideband" aerial (also known as group
W
) - one that covers every group.
As
Ofcom
is planning to move the TV frequencies again - perhaps as soon as 2018 - it may be wise to use a wideband aerial if you can to ensure you can keep viewing Freeview for many years to come.
Comments
Sunday, 5 February 2012

John Turley: Go to the manual tuning screen and tune to channel 59 for ITV1, C4, C5 etc from Tacolneston.

Dave Lindsay's 5,724 posts

Dave Lindsay: Whilst on the plus side the frequency of the Midhurst mux ArqB will be transmitted on a lower frequency (C50) after DSO2, there will be the change to 64QAM, 8k mode working without a power increase to compensate. At least the low power is only for a few weeks.

KMJ,Derby's 1,811 posts

Hiya..i have a humax 9200t freview box..but i am only getting 20% strenght but 100% quality on humax box meter,so can only record what i am watching instead of the twin tuners which let you record 2 channels at same time and watch a third tv program,(i think strenght needs be around at least 50% to achive this. The aerial is a RX20 which is pointing to crystal palace (on 6ft pole (chimney) i have a philex mains booster (4 way) going to three bedrooms ,the other tvs are working ok (freeview built in..no boxes).My labgear signal finder is showing only 2 green lights (there is a max of 4 green lights on finder)) if i plug the aerial straight from aerial into labgear signal finder... and still only 2 green lights even thru philex booster..can you advise please..thanks tony... ps i have heard that crystal palace transmitter is going to boost the signal sometime in may 2012 is this correct

tony's 5 posts

Hi,I live in the Pendle Forest reception area,& more recently (3-4 months) have been experiencing total loss of signal,particularly on Ch 12 (Yesterday) & Ch 24 (ITV 4).Other channels randomly display colour 'bars' without loss of full picture.When I retune the TV - a 11 months old LG 42" LD450 - via the factory reset,it is all okay for a few days,& then starts acting up again.I have had an engineer take a look under warranty,& he thinks it could be an ariel problem.Is this likely,as the ariel isn't all that old,& the problems only really started with the LG,& is worse when it rains or snows?Thanks

Rob's 2 posts

tony: Without knowledge of your location (pref: post code) its not really possible to assess what signal strengths you are liable to be receiving, and the name Crystal Palace frequently crops up with complaints made about poor reception. As far as the Humax is concerned 20% is no where near good enough for reliable reception even with its first class tuner, albeit that indications seen on a 9200 are inclined to be somewhat less enthusiastic compared to when observed on another device using exactly the same aerial, Humax though being more in line with the realism of the situation.

Just a small qualification regarding your statement on viewing a third programme, that is provided its on one of the multiplexes presently being used for recording.

I realise that you say the other TV's are OK, but for an accurate test you should really try a signal check on the Humax whilst its coupled into the aerial used by one of the other TV's, noting the indications seen over the mux channels used by Crystal Palace.

The best way to do this is go into the Humax's menu then scroll down and press on "install", enter password (0000) then select manual tune, you will then see a Mux channel number on the top line corresponding to the channel you happened to be viewing, but whatever the number "right click" (on large circular button) and a drop down channel number menu will be seen, select Ch25 and press OK and that will indicate the strength of BBC1.

After having made a note of it just "right click" again on the circular button but this time scroll down and press on Ch22 (ITV1) and once again making a note of the strength, then using exactly the same procedure as before go through the remaining multiplexes, these being 32 - 34 - 29 - 28, this being a far quicker way of getting indications of the various signal strengths received.

Do not though press "search" when carrying out the aforementioned procedure.

By the way although a few changes take place at C / Palace in earlier April, its not until the 18th that all multiplexes switch over to high powered operation. (200Kw)

jb38's 7,179 posts

Rob: As these programme channels mentioned are all on the same multiplex Ch24 then the possibility exists that the problem is being caused by interference from another distant transmitter on the same channel, otherwise known as single channel interference. I also feel that its purely coincidental that the problem appears only to have started since the purchase of the LG, and with you having mentioned that it seems worse under certain weather conditions being inclined to confirm that there is nothing wrong with the TV.

I realise you mentioned about coloured bars etc, but to give a better idea of the signal strength that you are receiving you should carry out a signal strength / quality check whilst on BBC (Mux Ch28) then on ITV (Mux Ch25) followed by ITV3 (Mux Ch27) noting the indications seen, then finally do the same again whilst on ITV4 (Mux Ch24) as its on the same Mux as Yesterday, and as all of these Muxes are on the same power it will give a better idea of what's happening.

Just out of interest, I realise your aerial was set up for Pendle Forrest (@ 2mls) but was any attempt made by your aerial installer to receive Winter Hill (@ 22 mls) as that's also shown as being possible to receive although Pendle has the edge on it, at least as far as the predictor is concerned anyway! with Pendle Forrest operating on 100 watts whereas Winter Hill is on 100Kw.

Manual tuning info is under "Set up" shown on page 26 of your user manual under "Watching TV - Programme Control".



jb38's 7,179 posts
Monday, 6 February 2012
J
John Turley
10:25 AM
Lowestoft

John Turley: Dave, thank you for your advice. Unfortunately I can only access DVB Auto Set up. The manual points to 'Manual tuning' for analogue only. When I go to menu and choose Set up the analogue tuning menu is no longer there. Understandable as no analogue anymore. But, no manual tuning for DVB.

John Turley's 3 posts

tony: JB thanks for info, done as you suggested (morning) and this is what i found ,all of the suggested mux numbers were showing 27% except 34 which was 20%..i then (afternoon.as i work nights) went in loft and disconnected all 3 leads from the philex signal booster.and then connected the single aerial lead to the humax ...the humax was showing on mux channels 10% strength and no quality..i then connected just the humax aerial lead to the booster and got 20% strength and 100% quality on humax box.i then connected all 3 aerial leads thru booster as it was originally...still humax 20% strength quality 20%..i seems that the strength (humax 27%)) is more in the morning and tails off to 20% in afternoon.
my postcode is CM18 6TP
thank you for info much appreciated...tony


tony's 5 posts

sorry..... should read on last part 100% quality..not 20%

tony's 5 posts

JB38:Many thanks for your excellent input with the problem that I've been experiencing,& I will certainly carry out a signal strength/quality check,as recommended!
I'm relieved that you doubt that the LG is the root cause of the problems,& concur that the recent weather conditions are most likely causing a conflict of signals somewhere along the way.
Re the choice of transmitter...all the aerials in the vicinity aim at Winter Hill,but we are blighted by a neighbours chimney in that respect (tried the position & the chimney blocked the signal..!)- hence the direction towards Pendle Forrest..
Many thanks again for your input-it's greatly appreciated!

Rob's 2 posts
Select more comments
Your comment please