Freeview reception - all about aerials

Brian Butterworth published on UK Free TV
Updated 8th January 2014.


Your ability of receive all the Freeview transmissions depends on the suitability of aerial
the design style,
the "group", and
its physical location.
Standard type - Yagi aerial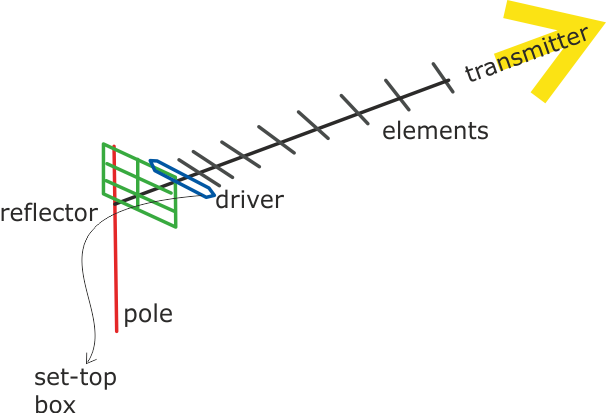 The
standard
type of TV aerial is known as the Yagi aerial. It is mounted on a pole, and consists of a rod with a reflector (shown green) at the back and many spiky elements (in grey) at the front. The connecting
cable
connects to the element nearest the reflector, known as the driver (shown in blue).
These Yagi aerials are directional and so
pick
up signals best from a
transmitter
that the rod points towards. The more elements the aerial has, the better it picks up a
signal
and becomes more directional.
A standard-type aerial is all that is required for
digital
TV
reception
in most places. These antennae have between 10 and 18 elements and a single reflector. These are recommended for new installations for good digital television reception, but will more often than not function perfectly in good reception areas.
Typically these aerials are designed to receive only some transmission frequencies - see "groups" below.
High Gain aerials

These aerials are designed for poor digital reception areas, and have two reflectors. For maximum signal strength, some digital high
gain
aerials have up to 100 elements. Since the
switchover
to digital-only transmissions back in October 2012, most UK households now have good
quality
digital TV signals.
A more expensive aerial is only required where the signal strength is low, but can often provide the whole Freeview reception where it might otherwise be impossible.
The CAI (that represents aerial installers) has four standards for digital TV aerials. The highest standard "1" is for homes on the fringes of coverage areas, intermediate standard "2" is suitable for use within the coverage area; minimum standard "3" is for good coverage conditions.
These aerials can be either
wideband
, or receive only selected frequencies - see "groups" below.
Grid

You may haved used a 'Grid aerial' for
analogue
reception, but as they are generally unsuitable for Freeview reception, they have now generally been replaced by the Yagi type. However in some places a Grid aerial installation may work for Freeview: otherwise replace with a standard Yagi aerial.
Indoor
Indoor aerials
are generally not suitable for Freeview reception. In areas of good signal strength it is often possible to receive some transmissions. Even where an aerial works, people often find that may get interruptions to their viewing (or recording).
Loft mounted
Loft
mounted arrivals are not generally recommended for Freeview reception, as the
roof
tiles and plumbing will degrade the signal. Some compensation for this loss of signal can be made by using
satellite
-grade cable to connect the set top box to the aerial.
Positioning
The best position for a TV aerial is mounted outdoors, as high from the ground as possible, pointing directly at the transmitter. The signal can be blocked by hills and tall buildings. It should be positioned away from any other aerials.
Horizontal or vertical?
The transmitter will either use vertical
mode
which requires the elements of your aerial to be up-down, or horizontal mode which requires them to be level with the ground.
Groups
Both analogue and digital television is transmitted the same group of transmission frequencies (known as
channel
21 through to 60). A coloured marking on the aerial shows the group.

To create the best possible analogue
picture
, TV transmissions from adjacent transmitters have been designated to several different groups of frequencies. By using an aerial that receives only the
channels
in the correct group, the analogue picture can be kept free from
interference
.
To receive Freeview transmissions from the same transmitter it has been sometimes necessary to use frequencies that are not part of the transmitter's normal group. When this has occurred, the aerial will need to be replaced with a "wideband" aerial (also known as group
W
) - one that covers every group.
As
Ofcom
is planning to move the TV frequencies again - perhaps as soon as 2018 - it may be wise to use a wideband aerial if you can to ensure you can keep viewing Freeview for many years to come.
Comments
Wednesday, 21 December 2011
K
Kevin Middleton
2:01 PM
Reading

Can the ingess of water into a communal aerial splitter box and/or cabling cause specific channels to degrade on freeview and analogue and if so what is the water doing to the signal?


Kevin Middleton's 2 posts

Kevin Middleton: The answer is yes, the rainwater causes a short between the shielding and the signal cable and degrades the reception.

Briantist's 38,844 posts

Kevin - as to why specific channels; they are probably the ones that are weaker, or less well taken up by the aerial, or it could be that the dampness is creating partial short circuits that have more impact at one frequency than another.

Steve P's 1,173 posts
Thursday, 22 December 2011

how can i get extra channels on my free view tele to watch inc the top up ones

nick's 1 post

If you do a retune; channel selection; it will find whatever you can receive.

Steve P's 1,173 posts
C
Chrissy
11:57 AM
Gravesend

mick sullivan: I just popped back to see if anyone else had responded to my post and saw your message. Thanks for the info, good to know for the future when I buy my own house. My house is rented, so I wont be replacing the rooftop aerial! I returned the 'super-dooper' indoor aerial that doesn't work and got my money back hooray!! Then I got a second cable box for the front room, and a Tivo box for me (what the hell, its only on the credit card. That really is the last time I use it. Promise). It's brilliant now that my boyfriend can watch all his boring war films and westerns in a different room and my tivo box records stuff I'd forgotten about while I'm doing something else, like sleeping, or being out!! Will be selling freeview box on eBay as company I bought it from charges £15 for insured parcel collection returns (gits). It only cost £23!!! If I cant get a reasonable amount for it, it shall be squirrelled away as I'm bound to want to use it at some point (as the second box costs £6 per month for the privilege) the only risk being its obsolete in a few years time when I have a rooftop aerial that works.

D.R.Bushell: Hi Doug. Sounds to me like you have an intermittent signal from your aerial (eg. loose connection) or interference (eg. rain, electrics, other aerials), since it's always been like this. I personally would get a reliable professional to take a look at it and perhaps re-wire or replace. But if its interference that wont solve the problem. Hopefully one of the clever people on here will see your post and offer you some qualified advice.

Small digression, as Must recommend this brain treat to the techies:

BBC Horizon, What happened before the Big Bang? Very interesting, you can get it on BBC iPlayer for the next day or two I think. Mind blowing, I really enjoyed it. Merry Christmas everyone!!!

Chrissy's 3 posts
Tuesday, 27 December 2011
M
moe netting
2:27 PM
Hereford

Since the switchover we have been experiencing problems initially with ITV channels with the picture breaking up, freezing and a 'bad signal' or 'no signal' message. Over the last couple of months this has also started happening on our BBC channels. The signal quality is sometimes as low as 1. I have emailed every organisation I can think of, scanned, rescanned, rebooted - you name it I have done it. We have a loft aerial and it was suggested that rain on the roof was to blame! the problem does seem to be worse when the weather is particularly windy but not always. There doesn't seem to be any pattern to it. I am at a loss as to what to do next, I am reluctant to pay for a new aerial in case this doesn't work. My TV is a panasonic with freeview incorporated in it - I never had any problems before the switchover.

moe netting's 1 post

Perfectly feasible that rain on roof would have an effect, as it makes the roof more electrically conducctive so blocks radio signals better.

You have a strong signal so unless locally blocked a roof ae should work fine. Get a local fitter to promise that no work no fee.

Steve P's 1,173 posts

moe stop behaving like mo off the simpsons and pay for a aerial man to come out and check your problem it will cost you money even if it is just a call out but you could have your problem soved in an hour.

Mazbar's 384 posts

moe netting: Just in addition / back up to what Steve P has mentioned insomuch that wet roof tiles, especially if of the thicker dense variety, can give exactly the same effect as though a wet dish cloth was thrown over the aerial, although this effect usually manifests itself more so in areas where signal strength isn't that good to start off with, something which "might" apply in your case albeit you are only 12 miles away from the station, and as also mentioned by Steve P, are actually predicted as being able to have good reception, not of course that these (even trade views) can be taken without the usual "pinch of salt", as its impossible for them to cater for any local conditions that may be applicable.

Another point to keep in mind though is, that any fluctuations seen in signal level during windy conditions is invariably caused by such as tree branches etc blowing about, as nothing on a transmitter mast can cause it.

jb38's 7,179 posts
Select more comments
Your comment please