Freeview reception - all about aerials

Brian Butterworth published on UK Free TV
Updated 8th January 2014.


Your ability of receive all the Freeview transmissions depends on the suitability of aerial
the design style,
the "group", and
its physical location.
Standard type - Yagi aerial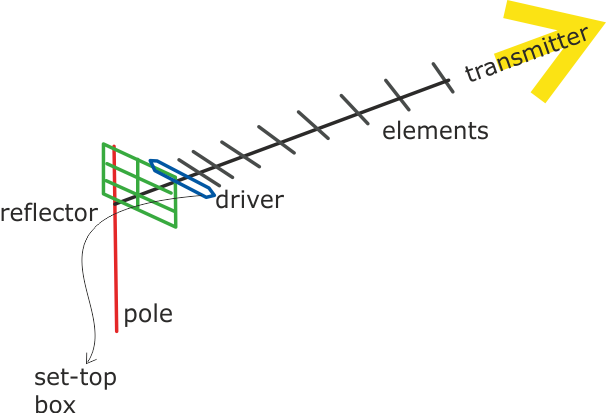 The
standard
type of TV aerial is known as the Yagi aerial. It is mounted on a pole, and consists of a rod with a reflector (shown green) at the back and many spiky elements (in grey) at the front. The connecting
cable
connects to the element nearest the reflector, known as the driver (shown in blue).
These Yagi aerials are directional and so
pick
up signals best from a
transmitter
that the rod points towards. The more elements the aerial has, the better it picks up a
signal
and becomes more directional.
A standard-type aerial is all that is required for
digital
TV
reception
in most places. These antennae have between 10 and 18 elements and a single reflector. These are recommended for new installations for good digital television reception, but will more often than not function perfectly in good reception areas.
Typically these aerials are designed to receive only some transmission frequencies - see "groups" below.
High Gain aerials

These aerials are designed for poor digital reception areas, and have two reflectors. For maximum signal strength, some digital high
gain
aerials have up to 100 elements. Since the
switchover
to digital-only transmissions back in October 2012, most UK households now have good
quality
digital TV signals.
A more expensive aerial is only required where the signal strength is low, but can often provide the whole Freeview reception where it might otherwise be impossible.
The CAI (that represents aerial installers) has four standards for digital TV aerials. The highest standard "1" is for homes on the fringes of coverage areas, intermediate standard "2" is suitable for use within the coverage area; minimum standard "3" is for good coverage conditions.
These aerials can be either
wideband
, or receive only selected frequencies - see "groups" below.
Grid

You may haved used a 'Grid aerial' for
analogue
reception, but as they are generally unsuitable for Freeview reception, they have now generally been replaced by the Yagi type. However in some places a Grid aerial installation may work for Freeview: otherwise replace with a standard Yagi aerial.
Indoor
Indoor aerials
are generally not suitable for Freeview reception. In areas of good signal strength it is often possible to receive some transmissions. Even where an aerial works, people often find that may get interruptions to their viewing (or recording).
Loft mounted
Loft
mounted arrivals are not generally recommended for Freeview reception, as the
roof
tiles and plumbing will degrade the signal. Some compensation for this loss of signal can be made by using
satellite
-grade cable to connect the set top box to the aerial.
Positioning
The best position for a TV aerial is mounted outdoors, as high from the ground as possible, pointing directly at the transmitter. The signal can be blocked by hills and tall buildings. It should be positioned away from any other aerials.
Horizontal or vertical?
The transmitter will either use vertical
mode
which requires the elements of your aerial to be up-down, or horizontal mode which requires them to be level with the ground.
Groups
Both analogue and digital television is transmitted the same group of transmission frequencies (known as
channel
21 through to 60). A coloured marking on the aerial shows the group.

To create the best possible analogue
picture
, TV transmissions from adjacent transmitters have been designated to several different groups of frequencies. By using an aerial that receives only the
channels
in the correct group, the analogue picture can be kept free from
interference
.
To receive Freeview transmissions from the same transmitter it has been sometimes necessary to use frequencies that are not part of the transmitter's normal group. When this has occurred, the aerial will need to be replaced with a "wideband" aerial (also known as group
W
) - one that covers every group.
As
Ofcom
is planning to move the TV frequencies again - perhaps as soon as 2018 - it may be wise to use a wideband aerial if you can to ensure you can keep viewing Freeview for many years to come.
Comments
Monday, 18 April 2011

Michael O'Pray: Dallington Park is a Freeview Lite relay transmitter and does not carry the SDN, ArqA and ArqB multiplexes.

Briantist's 38,844 posts

Michael O'Pray: The prediction for ArqB for you is much better than for Mux A and C. If you're only having trouble with channels on ArqB (such as the one you've mentioned) I'd check for damp in cables and connector boxes. Higher frequencies have much more attenuation in cables, particularly where water has seeped in, than low ones - and ArqB is all the way at the top of the frequency range, while the PSB multiplexes are all the way at the bottom. The other two commercial multiplexes A and C are in the middle.

It's not particularly easy to tell what sort of cable you have just by looking at it, but the cheap 'low-loss' coax often has a brown sheath, whereas 'satellite-grade' coax cable should have something like 'CT100', 'HD100' or 'WF100' printed on it at regular intervals. 'Low-loss' might have been low loss when introduced but compared to satellite grade cable, it's pretty poor. It also picks up more interference, particularly from electrical equipment, so a re-cabling could be worthwhile.

Mike Dimmick's 2,486 posts

Michael O'Pray: Actually, looking back on your past comments, it's possible that your box isn't picking up the transmissions from Sandy Heath, but instead using the transmissions from a more distant transmitter.

Check that the box is not on the list of 2K-only equipment at TVs and boxes that do not support the 8k-mode | ukfree.tv - independent free digital TV advice .

If you can, find out which UHF channels are being used for each multiplex. BBC One, Two, Three and Four should be on C27. ITV1, C4 and C5 should be on C24. ITV3 should be on C43. Pick TV should be on C40. Film4 and ITV4 should be on C67. If not, you will have to delete the channels that have been stored incorrectly, and try manually tuning the correct frequencies.

Please see Digital Region Overlap for some more ideas of how to handle this situation.

Mike Dimmick's 2,486 posts
M
Michael O'Pray
11:30 PM
Daventry

Thanks. Most of what has been said is "Greek to me" as I have no knowledge of what ArqB and MuxA and C and other terms might mean.

I can however say that I did the re-tune as per DigitalUK instructions and it accords exactly as per Mike Dimmick advises.

Let me put my cards on the table, I only have as much interest in the subject of digital TV as is necessary to get good reception especially in those two channels Film4 and ITV4.

Given that I have retuned as per Mike Dimmick's advice what do I now need to do?

Re-cabling might be the solution but before I embark on spending money which isn't abundant can someone tell me why sometimes I can receive good reception late at night but not during the day?

I cannot afford to spend money in a machine gun fashion until I eventually hit the right spot.

It appears that the Dallington Park relay does nothing for me. Why is this in layman terms and what is it there for?

For what it is worth I have just tried Film4 and ITV4 and tonight at about the same time as last night both are unwatchable whereas they were OK last night.


Thanks

Michael O'Pray's 1 post

If all freeview channels from Waltham were good before 13 April can ch 31 - non existant be different in its needs? If the Aerial was OK before, surely its OK now? If there is no signal quality at the cable end - surely its a transmission problem. Will someone admit it soon and tell us it will be rectified.Humax 9200T brilliant bit of kit also Sony box.

Peter Watson's 2 posts
Tuesday, 19 April 2011

Michael O'Pray. Your symptons sound very similar to the problems I was having.. sometimes channels were fine and other times they were unwatchable.
My answer turned out to be the channels playing up were coming from another transmitter which is further away and any bad weather etc between us affected the picture at times.
My freeview box (Humax) tells me what region I am picking up on the signal strength menu so all I had to do was manually re-tune those channels to my local transmitter and all channels work fine now. I don't know if your freeview box will show this data but if it does it's worth checking as it could be a free fix.

John's 29 posts

Peter Watson: You will probably have to wait until Wednesday 31st August 2011 if you can't find a local source of interference on C31.

The fault will not be your aerial, but it could be a booster or amplifier. See Single frequency interference | ukfree.tv - independent free digital TV advice .

Briantist's 38,844 posts

Michael O'Pray: I would look at Freeview multiplexes | ukfree.tv - independent free digital TV advice .

Dallington Park does not transmit the multiplex with the channels you want.

Briantist's 38,844 posts

Michael O'Pray: The Dallington Park transmitter was there to provide a four-channel service to a number of fairly small areas in Sandy Heath's coverage area: the ones in the semi-circle to the east of the transmitter in this coverage map:

mb21 - The Transmission Gallery

As Sandy Heath digital transmissions are now effectively louder than the analogue ones, these holes may no longer exist. Nearly all relays are being converted anyway, in case people are still watching them. A very few are closing and some new ones are being constructed.

There were considered to be 51 main transmitters in the country before onDigital started (some people have different counts, depending on whether you counted Torosay, for example). All of them got digital with limited coverage areas from 1997, and a further 30 sites covering areas of population considered important but not covered by the main transmitters, for example Sheffield, where Emley Moor barely touches the city, and Fenton covering Stoke-on-Trent.

There are around a further 1,000 relay transmitters in the country that didn't carry digital before switchover. The regulator, Ofcom, have decided that they can force the public service broadcasters to pay the cost of serving all these relays, but have decided not to use their powers to force the commercial multiplex operators to do so. The COMs were asked if they wanted to, and they said no - not cost-effective. The transmitter owners - before merging into one company - quoted £14m per year more for serving all transmitters compared to just the 81, nearly 2.4x as much. Satellite transmission is much cheaper.

Mike Dimmick's 2,486 posts

I STARTED TO HAVE POOR RECEPTION FOR MY FREEVIEW SO I BOUGHT A NEW TV BECAUSE I BELIEVED THAT WOULD HAVE SOLVED THE PROBLEMS. NEW TV BUT SIGNAL VERY BAD. SO I TRIED TO CHANGE THE CABLE, THEN I TRIED TO CHANGE THE BOX THAT GET ATTACHED TO THE WALL. NO GOOD RESULTS. THEN I DISCOVER THAT THE ARIAl cable inside the wall was coming off the plug so i cut a piece and now it is too short to reach the plug. my question is: if i buy a high gain arial where does it attach to? can i get good reception without having it attached to the airial cable on the wall? i live in e1w london.

franca's 1 post
Select more comments
Your comment please