Freeview reception - all about aerials

Brian Butterworth published on UK Free TV
Updated 8th January 2014.


Your ability of receive all the Freeview transmissions depends on the suitability of aerial
the design style,
the "group", and
its physical location.
Standard type - Yagi aerial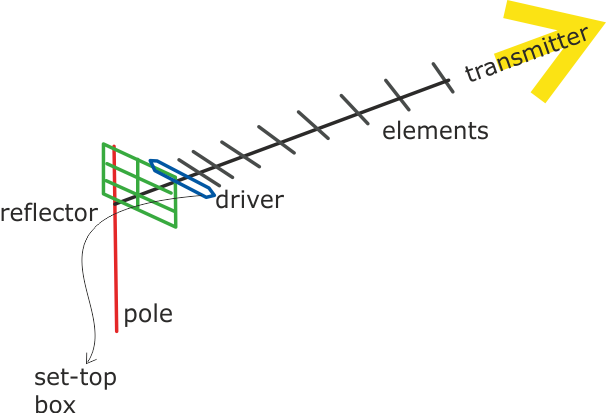 The
standard
type of TV aerial is known as the Yagi aerial. It is mounted on a pole, and consists of a rod with a reflector (shown green) at the back and many spiky elements (in grey) at the front. The connecting
cable
connects to the element nearest the reflector, known as the driver (shown in blue).
These Yagi aerials are directional and so
pick
up signals best from a
transmitter
that the rod points towards. The more elements the aerial has, the better it picks up a
signal
and becomes more directional.
A standard-type aerial is all that is required for
digital
TV
reception
in most places. These antennae have between 10 and 18 elements and a single reflector. These are recommended for new installations for good digital television reception, but will more often than not function perfectly in good reception areas.
Typically these aerials are designed to receive only some transmission frequencies - see "groups" below.
High Gain aerials

These aerials are designed for poor digital reception areas, and have two reflectors. For maximum signal strength, some digital high
gain
aerials have up to 100 elements. Since the
switchover
to digital-only transmissions back in October 2012, most UK households now have good
quality
digital TV signals.
A more expensive aerial is only required where the signal strength is low, but can often provide the whole Freeview reception where it might otherwise be impossible.
The CAI (that represents aerial installers) has four standards for digital TV aerials. The highest standard "1" is for homes on the fringes of coverage areas, intermediate standard "2" is suitable for use within the coverage area; minimum standard "3" is for good coverage conditions.
These aerials can be either
wideband
, or receive only selected frequencies - see "groups" below.
Grid

You may haved used a 'Grid aerial' for
analogue
reception, but as they are generally unsuitable for Freeview reception, they have now generally been replaced by the Yagi type. However in some places a Grid aerial installation may work for Freeview: otherwise replace with a standard Yagi aerial.
Indoor
Indoor aerials
are generally not suitable for Freeview reception. In areas of good signal strength it is often possible to receive some transmissions. Even where an aerial works, people often find that may get interruptions to their viewing (or recording).
Loft mounted
Loft
mounted arrivals are not generally recommended for Freeview reception, as the
roof
tiles and plumbing will degrade the signal. Some compensation for this loss of signal can be made by using
satellite
-grade cable to connect the set top box to the aerial.
Positioning
The best position for a TV aerial is mounted outdoors, as high from the ground as possible, pointing directly at the transmitter. The signal can be blocked by hills and tall buildings. It should be positioned away from any other aerials.
Horizontal or vertical?
The transmitter will either use vertical
mode
which requires the elements of your aerial to be up-down, or horizontal mode which requires them to be level with the ground.
Groups
Both analogue and digital television is transmitted the same group of transmission frequencies (known as
channel
21 through to 60). A coloured marking on the aerial shows the group.

To create the best possible analogue
picture
, TV transmissions from adjacent transmitters have been designated to several different groups of frequencies. By using an aerial that receives only the
channels
in the correct group, the analogue picture can be kept free from
interference
.
To receive Freeview transmissions from the same transmitter it has been sometimes necessary to use frequencies that are not part of the transmitter's normal group. When this has occurred, the aerial will need to be replaced with a "wideband" aerial (also known as group
W
) - one that covers every group.
As
Ofcom
is planning to move the TV frequencies again - perhaps as soon as 2018 - it may be wise to use a wideband aerial if you can to ensure you can keep viewing Freeview for many years to come.
Comments
Thursday, 20 June 2019

Michael Glaves:

I, for one, have mentioned the log-periodic design many times but it is not the only wideband design available. The term wideband surely includes aerials of a modified Yagi design as well as a log-periodic design. It is up to the owner or installer to choose the most appropriate type for the situation. Log-periodics tend not to have as much inherent gain as a modified Yagi and they are not blessed with as narrow a reception pattern. So where the installation needs to reject other signals it may be more appropiate to use a modified Yagi rather than a log-periodic.

Personnally I use a Log-periodic for reception from Mendip and have no problems with it. However, some in the Bristol/Nort Somerset area appear to need to reject other transmitters to avoid the Welsh language services they do not want. I'm sure there are other instances where a modified Yagi as a more suitable choice for the location.



MikeP's 3,056 posts
Thursday, 30 April 2020

Everything is very open with a clear description of the challenges.

It was really informative. Your site is useful. Thank you for sharing!

ฟุตบอล hd หนังออนไลน์'s 1 post
Tuesday, 26 May 2020

As from the Lockdown, I have been trapped on my Narrowboat in Bugsworth Basin ( SK23 7NF )
and as it looks like I will be here for the next couple of months due to water shortage.
Could you advise me on the best Transmitter for my location. At the moment I believe I am
using Winter Hill but at best it is only watchable on some (either) BBC or ITV but hardly ever
both, with some freeview channels if I am lucky. I have a Type 2 Yagi which in general is super
but in this location is causing plenty of grief. Please help.

Terry's 1 post

Terry: From entering the postcode you've given on the Freeview coverage checker, scrolling down and selecting the Detailed View option, it would appear that 3 different relays should provide a good service at your location, however you will only be able to receive the PSB channels (and some of their offshoots), as none of those transmitters broadcast any of the COM multiplexes. Those transmitters are:

Ladder Hill 3km away at a compass bearing of of 162 degrees from your location
Chinley 2km at 74 degrees
Whaley Bridge 1km at 220 degrees

Full details can be viewed at https://www.freeview.co.u…cker

StevensOnln1's 3,510 posts

Terry:

Unfortunately it's virtually impossible to provide a direct link to the Coverage Checker results these days since Freeview changed the way it's been implemented and so StevensOnln1's link has ended up broken.
The 3 relay transmitters he's mentioned require vertical polarisation, whereas Winter Hill requires horizontal.
If you put the postcode into the boxes on this page Platform management | Freeview it will take you directly to the detailed view where you can see all the detail.

Chris.SE's 3,451 posts
Saturday, 11 July 2020

Terry:
Check www.wefitaerials.com they helped me out in the SK post code area.

Dave's 1 post
Sunday, 4 October 2020

Hi All,

Hope you can help whilst tuning in a new tv aerial in the Manchester area, using a rover meter
i was pickinmg up all the transponders a few weeks ago now i can only pick up chanels 32 and 37 any help would be much appriciated.

Barry Whelan's 1 post
Monday, 5 October 2020

Barry Whelan:

Might be weather conditions, or possibly transmitter maintenance.
I'd try again and if the problem is persisting, post back with a full postcode and any further technical information that you can.

Chris.SE's 3,451 posts
Tuesday, 20 April 2021

I have just moved to a new area and I seem to get London and East. Which is the best for me? Postcode HP13 5GL.


MRS J KNIGHTS's 12 posts

MRS J KNIGHTS:

This must be a new postcode area as it's not in the Freeview Checker Database! Looking at some nearby postcodes, predictions are quite variable but none of them are giving any transmitter for the East region (do you especially want East Anglia local news?). The area you are in is traditionally London region. Depending on the nearby terrain, you may get good reception from the main Crystal Palace transmitter, otherwise you may have to get reception from the High Wycombe Relay transmitter which will limit the number of channels you can get.

Using street view, the terrain seems quite varied and there are obviously some areas in significant dips.
Your best bet is to see which way you neighbours aerials are pointing and ask them what reception they have and how good it is. If you are stuck with a relay transmitter (there are some others that may cover your area, but again limited channels) and want more channels you might want to consider Freesat. A lot of modern TV's have a satellite tuner built-in so all you might need is the dish and an LNB.

Chris.SE's 3,451 posts
Select more comments
Your comment please